Neridah McMullan (text) and Sarah Anthony (illustrator), Drover, Walker Books Australia, September 2021, 32 pp., RRP $26.99 (hbk), ISBN 9781760652081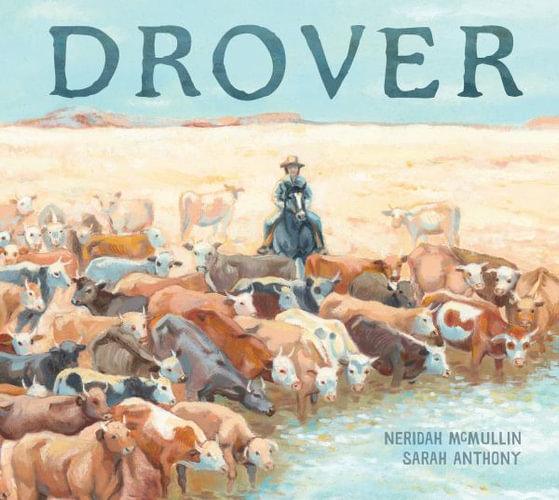 Each opened double page of this book is a full colour spread of the landscapes of Australia's far north. The trees are sparse, sometimes with flocks of wild budgerigars lacing through their tops, and the earth is mostly the pindan red dust, liable to turn to a sticky pliable clay when the rains come. Sara Anthony's rugged water-colour style sun-drenched images are the highlight of this book. They create a distinctive world where horse, dog and drover work for survival in a simplified universe.
Across this land, up until the middle of the twentieth century, cattle were driven vast distances by riders on horseback. The story follows the details of a six-month cattle drive covering over two thousand kilometres in 1950 across the interior of our continent, ending in the tiny, remote Queensland town of Dajarra. It is based on the life and work of Edna Jessop, Australia's first and perhaps only female 'boss drover'. Edna had been droving on horseback since she was a child, and on this trip, at nineteen, she had to take over when her father fell ill. To succeed she had to show courage, judgement, skill and perseverance. But what kept her going was her love of the bush.
This is a fine, heroic tale, strong on iconic images of Australian ruggedness— and innovative in putting a woman in the saddle and in charge.
Reviewed by Kevin Brophy