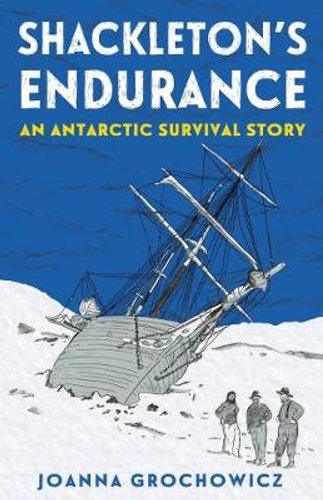 A thrilling true story about the incredible patience, courage, and endurance of twenty-seven men and their extraordinary leader Ernest Shackleton in the face of a most perilous journey.
In 1914 famed polar explorer Shackleton set sail once again for the place he considered home to make the last great polar journey. They were to cross Antarctica by foot. An endeavour that was to take a mere one hundred and twenty days, or a short Antarctic summer. But they never even made it ashore.
When their ship, the Endurance, became stuck in ice, and later sank, Shackleton and his men had to make a far longer and more dangerous journey if they hoped to survive. Facing tremendous odds, with no way of contacting a world preoccupied by the First World War, they had to battle with extreme hunger, exhaustion, despair, and unimaginable cold. Nobody but their phenomenal leader Shackleton could have managed to get every one of them home safe.
Shackleton's Endurance was probably the most engaging and exciting non-fiction novel I've ever read. Joanna Grochowicz did a fantastic job of bringing this true story to life in a fast-paced and easy to read way. One of the best ways I can describe it, is that it was like watching a really good documentary, I couldn't put it down. There isn't any romance, magic, or great representation, but this didn't bother me as it is a true story, yet so far from my own reality. It does delve into some of the harsh realities those men faced, including things such as depression/suicidal thoughts, and the slaughtering of animals for food, so if you are sensitive towards such topics, you may want to proceed with caution.
I would highly recommend this educational and thrilling book to anyone twelve and up. It was quite different from most of the books I've read, but I found the endurance of those men truly inspiring and loved following them on their unexpected adventure.
Reviewed by Libby Boas