Lauren Tobia, Oscar's Tower of Flowers, Walker Books, June 2021, 40 pp., RRP $27.99 (hbk), ISBN 9781406391879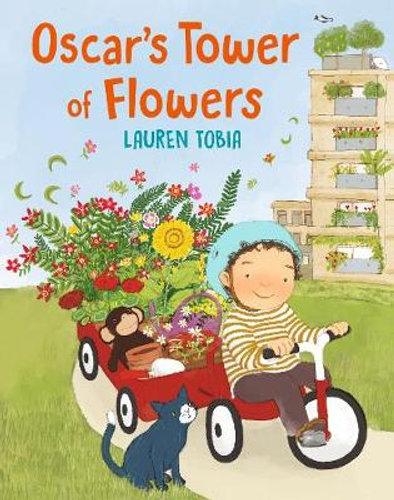 The illustrations do the talking in Oscar's Tower of Flowers, a wordless picture book for children 2 years and older. When Oscar's mother goes away, he stays at Nana's apartment. Oscar misses Mum and their home, so Nana helps Oscar plant some seeds to brighten up the apartment. The seeds take off and soon Nana's home is overflowing with vibrant greenery, snaking vines and colourful blooms. Eventually, there are enough plants to brighten the whole neighbourhood.
The illustrations, a combination of graphic panels and spreads, take readers step-by-step through the simple story. The artwork is bright, expressive, and detailed. Emotion is expertly conveyed through facial expression and body language, and some parts of the story really tug on the heart, such as Oscar and Mum's painful farewell and Oscar lying awake at night. The story is, however, ultimately joyful, celebrating the pleasures of gardening, connection, and community. Images of the apartment block show a vibrant, harmonious, and diverse neighbourhood. This is a lovely quality book, with 40 thick matte pages, vibrant colours, and a hardback cover.
Wordless picture books don't appeal to everyone; however, they can encourage independence in children and allow readers to add their own interpretations to the story. (For example, when I read the book, I thought Oscar had two mothers, and only realised after reading the media release that one woman was his Nana). With no words, readers must really engage with the story, making it a great choice for enthusiastic readers and engaged caregivers, but not ideal as a quick bedtime story.
Reviewed by Laura Holloway