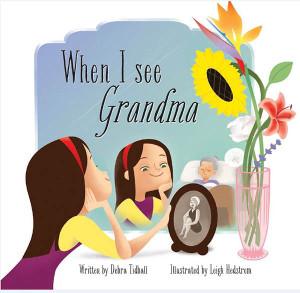 TIDBALL, Debra (text) Leigh Hedstrom (illus.) When I See Grandma Wombat, 2014 unpaged $19.95 ISBN 9781921632594 SCIS 1644979
Here is a unique picture book focusing on the significance Grandparents have in children's lives and also gently touching on themes of death and loss.  Grandma is ill and in an aged care home.  The family visits regularly and the Granddaughter although sad to see her Grandma sick, is happy that she is able to do something for her and add a little something to her life, 'I'm always sad to see her but I'm always glad that I can brighten her dreams'.
Debra Tidball and Leigh Hedstrom are a powerful creative force with their pairing of text and illustrations that weave the past and present together throughout the story.  Each present day moment is balanced with an illustration of Grandma's past when she was young and healthy.  The Granddaughter's singing reminds Grandma of dancing when she was young, and the Granddaughter brushing her hair takes Grandma back to her wedding day.  This subtle pairing between the text and illustrations gradually builds a picture of Grandma's life from meeting her true love, to marriage and becoming a mother, allowing the reader an intimate insight.
The book explores the themes of death and losing those who are close to us, topics that are often hard to effectively convey to children.  Tidball and Hedtsrom manage to successfully portray these difficult themes and reveal that although death affects us and is sad, death should also be a celebration of that person's life and all of the wonderful things and memories they have left behind.  Gentle in nature, When I See Grandma is a beautiful construction of family history and how memory and love are passed down generations.  Exploring the cyclical nature of life, this book will leave even the more stoic of us with a tear in our eye.  Recommended for ages 4+.  Teaching Notes are available on the Wombat Books website.
reviewed by Maria H Alessandrino