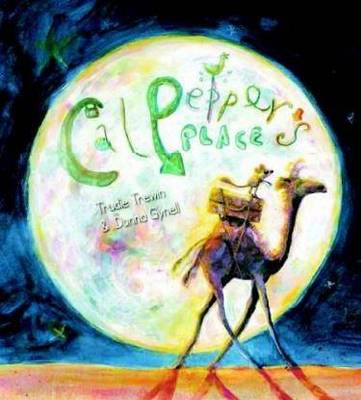 TREWIN, Trudie (text) Donna Gynell (illus.) Calpepper's Place Windy Hollow, 2014 unpaged $25.95 ISBN 9781922081322 SCIS 1675810
Calpepper the camel had 'lived in the desert for all of his memories' but dreams of places he'd rather be.  So he embarks on an adventure to find a better place.  With a spinifex mouse companion he joins a crazy line up of Aussie animals on a 'bus bound for adventure' and a road trip that takes him to the snow, the city, and the surf, until he discovers the best place for a camel.
Active and lyrical language, repetitive phrases and a sprinkling of onomatopoeia make this book a delight to read out loud.  Words in varied fonts, sometimes incorporated into the illustrations, encourage interaction and early reading attempts.
The hazy, pastel watercolour illustrations perfectly express the places Calpepper finds himself in and allow a freedom of movement for his whimsical antics – skiing, surfing and scuba diving (the latter only in his dreams.) A combination of full page illustrations, white space and interesting angles will captivate readers.  The end papers are washed in green and cleverly allude to the saying 'the grass is always greener…'
With rich language and pictures, this whimsical tale about contentment, will delight a wide range of children from preschool to primary school.  Perfect to be read over and over again.  Recommended.
reviewed by Debra Tidball