Alison Hart, School Rules are Optional (The Grade Six Survival Guide #1), Allen & Unwin, November 2020, 208 pp., RRP $14.99 (pbk), ISBN 9781760525712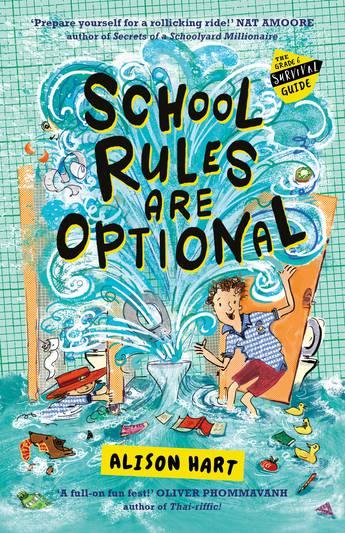 It's the first day of grade six and Jesse already has three problems. One, he's got Mrs Leeman as a teacher; two, he might have been voted school captain; and three, he has no idea where his Grade Six jumper is. Then, a few days later the school toilets blow up. And we haven't even talked about school camp, or his super annoying Prep buddy. School Rules are Optional by Alison Hart is a super funny, highly witty, and fantastically authentic look at grade six life in Australia. Told from Jesse's hilarious point of view, this page turner will have kids laughing, and wincing, at the situations Jesse finds himself in. 
Everything about this book is just right for the target audience, kids aged 9 -13. It has heaps of humour, lots of relatable situations and it's written is like a series of comedy skits, which mean it's easy to pick it up, read a section and find a natural place to stop. It's even works as a series of humourous short stories, but the magic is that they flow together nicely around a bigger plot. The story has a satisfying ending, but one that will make younger readers want more as the language and humour is perfectly appropriate, with some challenging witticisms within a story that are easy to read. 
Sometimes funny books can have real highs and lows, but this book maintains a great pace throughout, and even more impressive, it maintains the humour throughout. My 11-year-old son was immediately drawn to this book and we read it at the same time. When I asked him what he thought, he said it was like Diary of a Wimpy Kid without the pictures. And indeed it is. The only real improvement to this book would be the inclusion of illustrations. The book design includes a few graphics, but some well-placed illustrations would have elevated the story and let the reader relish the funny moments even more.  
This extremely well written book screams fun and authenticity. I was immediately sucked into Jesse's world and am sure that almost every Grade Six in Australia will relate to Jesse and his friends. School Rules are Optional is a great Australian alternative to international, school-based stories and definitely holds its own with the likes of Diary of a Wimpy Kid, Tom Gates and Timmy Failure. It will appeal to kids aged 9-13, especially those that have enjoyed Secrets of a Schoolyard Millionaire and the Huggabie Falls series.
Reviewed by Renee Mihulka