Fred Blunt, Santa Claus vs the Easter Bunny, Allen & Unwin, October 24 2018, 32 pp., RRP $19.99 (hbk), ISBN 9781760634698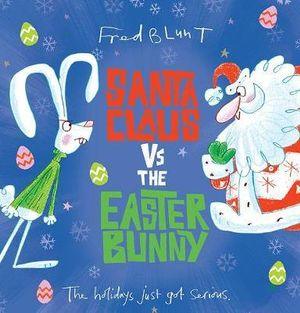 I cringed a bit when I saw the title, realising who the two main characters were. Then a little intrigued as to how they could be combined because their important days were so far apart.
Santa is bubbly and jolly. Bunny is completely different.Santa gets all the help needed for his important night. He has the elves, a production line, magical reindeer who fly through the night so that he gets around his whole delivery area AND he gets food and lots of thank you letters. Bunny must do all his preparations alone, has no help with delivery (which is why you sometimes find Easter eggs scattered all over the garden) and is never acknowledged.
In frustration, Bunny hi-jacks Santa's production line, using chocolate as the ingredient for everything coming off the conveyor belt.  But it wasn't the disaster he expected and on Christmas morning, the kids thought it a wonderful combination of edible toys. So, Santa is delighted and from now on, the two work together.
Speech bubbles, loose cartoon-like illustrations with recognisable caricatures and unexpected details add to the verbal and visual humour throughout. The opening end pages set the mood for the conflict between the two and the closing spread shows just how much has changed.
It's great fun and all readers will enjoying finding some of the less obvious visual gags. The book will be able to be used for both Christmas and Easter. School and public libraries should seriously consider acquiring this title and the home library will be improved if it's there.
Reviewed by Maureen Mann