Kate Ritchie (text), and Jedda Robaard (illustrator), It's Not Scribble to Me, Random House Australia, October 29 2018, 32 pp., RRP $19.99 (hbk), ISBN 9780143790136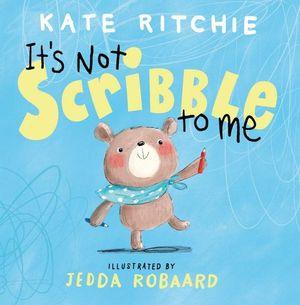 Bear is obviously a serious artist in the making. She's not satisfied with just paper and her art work, using pencils, paints, crayons and stencils, spreads over all the walls, into the bathroom and wherever there is blank space. Her parents are not amused, and one can see them trying to remove her 'scribbles' from the walls. But the narrator describes what each art work depicts, how the different colours have been used and by doing so, the reader is introduced to colour. She encourages everyone around her, her parents and her younger sister, to join in. What about you? Could you sit next to me and please draw me the magical things you see?
There are many good points to this story –its introduction to colour and the opportunity for art to represent different things to different people. But for me, there are two sticking points. Firstly, I'm concerned that the young bear's work is implicitly referred to as scribbles. I hope there are not many parents who still use this derogatory term about their child's early drawings. Secondly, I don't like the fact that the bear continues to draw on the walls, and that she seems quite proud, and her parents seem powerless to stop it. That paper is nice but it can't hold them all, and soon my scribbles spill onto the walls.
But the humour comes through and with parent and child talking throughout and after each reading, this book could be good fun. It just doesn't work for me.
Reviewed by Maureen Mann