Sally Murphy (text) and Celeste Hulme (illustrator), Sage Cookson's Stormy Weather (Sage Cookson #7), New Frontier, September 2018, 56 pp., RRP $9.99 (pbk), ISBN
9781925594263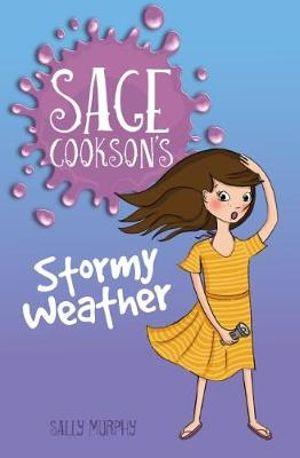 Stormy Weather is another book in the Sage Cookson's series which follows the adventures of ten-year-old Sage as she travels around with her TV celebrity chef parents.
Sage is no princess fairy. She is a down-to-earth, sensible Aussie girl, dealing with real-life dramas. This time the drama is a cyclone that is about to hit the town of Townsville where she is visiting with her parents.
It is refreshing that Murphy uses a local context and situation to introduce young readers to a very real danger that those in North Queensland face on a yearly basis. The cyclone and its imminent destruction is seen through young Sage's eyes and encourages understanding and empathy in young readers.
There is a nice quantity of dialogue throughout the text that gives the reader a good sense of Sage's character. Sage is a likeable character; loving, adventurous and responsible when it comes to school work. She represents a healthy role model for the young reader. The text is suitable for readers from age 7-10, and the inclusion of a recipe at the end makes for a great tie-in activity as a parent or teacher.
Reviewed by Julie Bartola