Philippa Cleall, How to Reach for the Stars, Coastal Herd Tales, October 2018, 14 pp., (pbk), ISBN: 9780994564757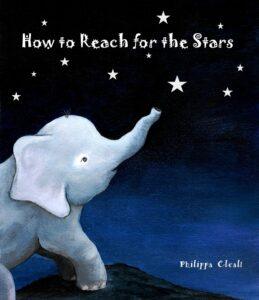 Tembo is a little elephant with big dreams. When she starts thinking about her future, her Grandma Bibi encourages her to reach for the stars.
This confuses Little Tembo and she immediately thinks of ways to physically touch the stars, until her Grandma Bibi explains its real meaning – to strive for and achieve her goals for the future.
Little Tembo starts to imagine all the wonderful work she could do in the world. Will she run her own adventure safari, build amazing structures or be a good teacher?
The world is at Little Tembo's feet, if she follows her dreams and works hard.
Phillipa Cleall has created a heartfelt story about having dreams and striving to achieve them. It also shines a light on the wonderful role model of elders in supporting those dreams.
As a dual-language picture book written in English and Swahili, it is a pleasure to read. There are some fun learning activities for teachers and librarians around learning a second language through word finding exercises, and class discussions about individual skills and abilities.
Along with her vibrant landscape illustrations showcasing Africa in all its colourful beauty, Philippa's fourth book continues to inspire and celebrate diversity. Her passion for nature is evident in her eye-catching illustrations, and the middle page spread of Mount Kilimanjaro is captivating as we follow Little Tembo's journey of discovery.
There is a genuine warmth about this story, not only because of its inspirational tone and fun-loving animal characters, but the social efforts behind the scenes to make learning free and accessible in Tanzanian schools.
How to Reach for the Stars is for all the dreamers, especially those who need a little nudge to reach their stars.
Reviewed by Shelley Stephens