Mariah Sweetman, Robert runs, Magabala Books, October 2023, 190 pp., RRP $22.99 (pbk), ISBN 9781922613387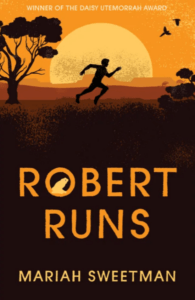 Mariah Sweetman is a descendant of the Ugarapul people, the tribe of the Green Tree Frog, and her main character in this brightly told novel is a twelve year old boy, Goupong, who belongs to these people. He is, however, confined to a mission, having been taken from his family in a violent raid during the nineteenth century.
The novel follows the shenanigans of young children crammed together in dormitory, school yard, and classroom under the cruel eyes of the Boss Man and their much-confused teacher Miss Adams. At the same time, these children feel the pull of their identity, which includes a hunger for the stories of the land of their ancestors. Are the noises they hear at night coming from a disgruntled spirit creature of their people? Could they possibly escape back to their land and their people? And, for Goupong, there is the coming race against a touring white man said to be the fastest man on earth over a short distance. No one has ever beaten Goupong in a race.
The story is based on historical accounts of actual characters, and brings to readers a vivid re-imagination of lives lived under extremely harsh and unjust conditions, but lived nevertheless with spirit, verve, humour and hope. Suitable for children 10 to 15 years.
Reviewed by Kevin Brophy