Timothy Ide, Medieval monsters and other creatures, Midnight Sun, November 2023, 64 pp., RRP $34.99 (hbk), ISBN 9781922858177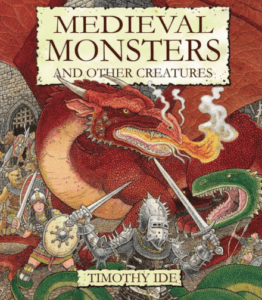 Timothy Ide is an Adelaide illustrator best known in children's literature circles for Tom the Outback Mailman and King of the Outback, both by Kristin Weidenbach. This is his first book as both author and illustrator.
Timothy enjoys wargaming and role-playing games. He practises armoured medieval fighting with the Society for Creative Anachronism. His fascination with the Middle Ages has led to this colourful but not exhaustive encyclopaedia of mythical (or are they?) beasts. On the opening double-page spread, he warns, Beware, traveller, for you enter a world of danger and mystery! Many of these creatures have lingered on and adapted into the modern age …. Be on your guard!
What follows is an alphabetical listing from Alfanc to Ziphius, not the most well-known of monsters! Other inclusions will be familiar to most readers, including the unicorn, dragons, elves and dwarves. Many lesser known ones will be new to readers both young and old. There are some quite contemporary comments such as Today, troll-like humans lurk on the internet… Legendary dragonslayers and other heroes are also mentioned.
Most double-pages contain a full-size, detailed, colourful illustration often showing more than one type of monster, while others have several smaller ones. Some of the faces and expressions are quite frightening but young readers may spend many hours poring over the details. The only quibble is that for some reason the N page suddenly has much bigger font size than the rest of the book.
Reviewed by Lynne Babbage