Josie Layton (text) and Rebecca Timmis (illustrator), Reggie Red, Larrikin House, February 2021, 32 pp., RRP $24.99 (hbk), ISBN 9780648872207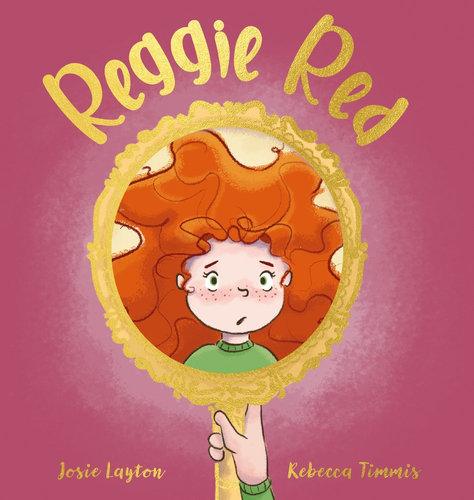 School photos are coming up and some of the girls at Reggie Red's school are planning how to make themselves look photo-worthy, talking about dyeing their hair and wearing make-up. Reggie knows her bright red, curly hair and freckles don't fit the images shown online that everyone is talking about and trying to copy. But her attempts to change her appearance end in disaster. She can only use what she has around the house, such as chocolate sauce and Grandma's old wig, and none of these solve the problem. Fortunately, when she asks her mother for help some family wisdom helps her see herself in a different way. On photo day she is able to share this wisdom with another friend who is also feeling self-conscious, and the end result is a great photo where they are both looking and feeling confident in their own uniqueness.
Reggie's story tackles mature themes around media presentations of beauty and appearance, and what it means to look normal and fit in. Though these might seem to be ideas for an older audience than picture book readers, research shows that girls and boys are taking on problematical messages around body image at increasingly earlier ages, so there is a definite need for books like Reggie Red that are pitched appropriately to a younger audience. The central message of inner beauty and embracing your uniqueness offer a valuable lesson in a fun way.
The images beautifully reinforce the key ideas, especially in the final school photo, where Reggie and her friend Tilly beam confidently. There is a lot of humour in the story and pictures, especially around the extremes Reggie goes through to change her appearance, such as covering her hair (and her kitchen!) in chocolate sauce. The pictures are bright and colourful, with a real sense of energy and emotion, and lots of details in the background that will make Reggie's world instantly relatable to school-aged children. The cover is simply gorgeous, with its gold-embossed mirror showing Reggie gazing out at the reader, so they connect with her instantly – she is their reflection.
At the back of the book are simple prompts to help children identify their own inner beauty, such as something I am good at is….
This book is perfect for redheads, but also for anyone who feels they don't fit 'normal' standards of appearance.
Reviewed by Rachel Le Rossignol