Will Kostakis, Rebel Gods (Monuments, #2), Lothian Children's Books, August 2020, 256 pp., RRP $19.99 (pbk), ISBN 9780734419262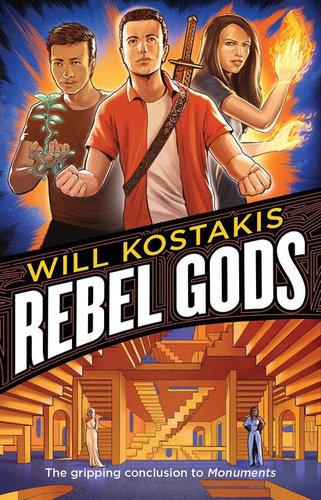 Rebel Gods moves at a brisk pace, with only two very early pages starkly summing up Monuments, confidently expecting readers to be on board and up to date. Connor, Sally and Locky are aware of what's at stake and no time is wasted. Initially the heroes continue their quest to find more information to help them defeat their foes, but when Locky draws their attention by performing 'a miracle', the stage is set for a tense game of cat and mouse. Who will blink first?
I love the writing style employed here: it's fun, it's witty and it's authentic. Connor's thoughtful narrative reflects the snarky teenager, the caring son, and the loyal friend. But he's not immune to whining, teasing or to blowing off school, and these flaws add significantly to his character. When faced with the huge ethical issue of the possibility of having to kill their enemies, Connor baulks, and Locky too, seems determined to find another solution. Sally appears resolute, but even she exposes her vulnerabilities, and we know this task will impact heavily on all their hearts. Can these baby gods actually kill the rebel gods? Should they? Although there's little enough down time to ponder these issues, Kostakis does provide some space in the build up to enable readers to confront their own course of action. His sharp asides covering political happenings, social media controversies, and the impact of blind faith also challenge us, but they are not intrusive or preachy.
The character of Locky is a triumph. What does it mean to give godlike powers to someone who wants to enter politics? We're all 'woke' enough to realise that people who enter public life with the best of intentions struggle to maintain their principals in the face of systemic structures that seem to reward corporations and largely ignore smaller communities. It might be easy to take Locky down a path of temptation, but Will creates a glorious road for him that is both perfect and difficult.
The other important element of these novels is, of course, the representation of clever, resilient young adults who crush the slacker, smartphone obsessed stereotype. These teenagers are resourceful, socially aware, and prepared to sacrifice for the greater good. We want our young people to see themselves depicted this way. They need to know we aren't pushing them into boxes that don't offer hope or a way forward. It's a really strong message, and it's up to those of us who work with teenagers to provide them with books through which they can feel good about their generation. Each of Will's books do this. Admirably, actually.
Reviewed by Trish Buckley