Claire Saxby (text) and Tannya Harricks (illustrator), Kookaburra, August 2020, 32 pp., RRP $26.99 (hbk), ISBN 9781760651060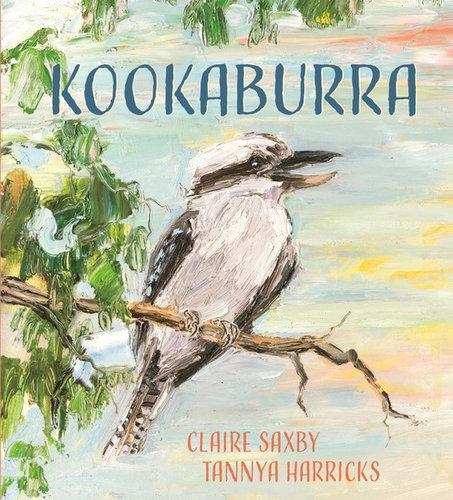 Kookaburra is an exciting new addition to the narrative nonfiction 'Nature Storybooks' series and the second collaboration between Claire Saxby and Tannya Harricks. The award-winning duo's picture book Dingo was joint winner of the Patricia Wrightson Prize for Children's Literature; it won the Zoological Society of NSW's Whitley Award; was shortlisted in 2019 for the CBCA New Illustrators Award, and Best Picture Book in the Educational Publishing Awards.  
In the crinkled shadows
Night-dwellers yawn,
day- creatures stretch
and Kookaburra laughs.
In a line on a limb with her mate and three young, she leads a sunrise chorus.
Kook-kook-kook.
Kak-kak-kak.
Suitable for young readers (5 years +), this fascinating narrative sweeps us through a busy day in the life of Kookaburra. From her first laugh at daybreak, nesting, feeding, impressive territorial displays, to her night song in the deepening twilight, this title allows readers to witness the daily adventures of this female laughing Kookaburra and her family.
We are told that soon Kookaburra will lay her eggs. She watches, flies, swoops, and thwacks through her daily tasks. This narrative's short punchy sentences and lively illustrations help build the excitement of nesting season for young readers. Interesting wildlife facts are woven into the narrative and additional Kookaburra information is included in italic sentences at the bottom of each double page spread.
Kookaburra's habitat is revealed in glorious detail and texture in Tannya Harricks' dramatic, oil painted scenes. Her vibrant brush strokes add movement to the open skies, flowing rivers, and Kookaburra's spreading wings. The illustrations manage to capture this iconic Australian bird in all her fine and fascinating detail, even down to the gentle side-tip of Kookaburra's head as her prey comes in to sight.
This is a superb title to share with children at home or as a non-fiction narrative in the classroom. Older children can use the further information and the index section at the back of the book to learn more about the indigenous, laughing kookaburra. This title would be the perfect choice for budding wildlife experts.
Reviewed by Lisa Hoad