Chloe Jasmine Harris, Henry Turnip, Walker Books Australia, June 2020, 32 pp., RRP $25.99 (hbk), ISBN 9781760651114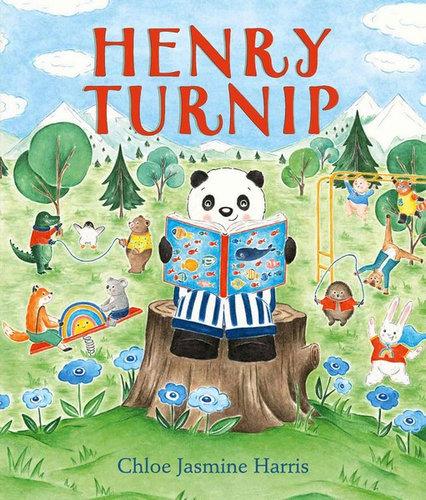 Henry is a young, introverted child (represented as an anthropomorphised panda) who likes order, predictability and routine. It makes him feel safer when things are quiet and controlled. This is fine at home, but his kindergarten class can be very loud and chaotic! There are lots of other, messy kids who like to run around and play noisily. In the playground Henry sits by himself, even though he would like to join in. Then one day Rueben Moon arrives – he is outgoing, friendly and adventurous. Rueben draws Henry into the schoolyard games, encourages him to try new things, and gives him the confidence to enjoy some mess and chaos.
This is a picture book with a message of tolerance and inclusion. A small effort on the part of a kind person can make all the difference in someone's life. The text is simple and brief, and leaves a lot of room for the illustrations, which fill the pages and are all colour and movement. Such bright and engaging illustrations cannot fail to appeal to young readers. This would be a good addition to lower primary, pre-school and public libraries.
Reviewed by Rebecca Kemble