Tim Miller (text) and Matt Stanton (illustrator), Read This Book and Never Fart Again, HarperCollins Publishers, November 2021, 48 pp., RRP $19.99 (hbk), ISBN 9780733339042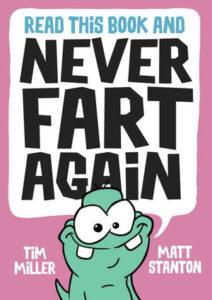 Some of us have rumblier tummies than others, but what do you do if your farts are getting out of hand? What if they're too powerful to be stopped?
Enter Fart Monster, the green pal who knows a thing or two about how to stop cutting the cheese. In this hilarious dialogue between the fart monster and a concerned tooter, readers will be clutching their sides (hopefully from laughs) at the absurd solutions the characters explore.
The humour throughout the book is well-crafted and is supported by the conversational tone of the text. The use of white space and comic-style illustrations make the dialogue pop, highlighting the jokes on each page. Tongue-in-cheek moments like "How to stop a roar from the rear" and the precarious sticky-tape solution will keep young readers giggling all the way through.
The most powerful part of this book though, is its ultimate message of acceptance. After all, everybody farts!
Recommended for ages 3 years and up.
Reviewed by Sarah Stivens