Harry Laing (text) and Anne Ryan (illustrator), RapperBee, Ford Street Publishing, October 2021, 102 pp., RRP $14.95 (pbk), ISBN 9781925804775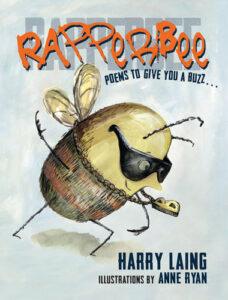 Make room, Elizabeth Honey; there's a new kid on the block!
Well, not quite a new kid – author Harry Liang has been writing poetry for children since he self-published his first collection back in 2015. In his latest collection entitled Rappe Bee, Liang cements his position at the peak of Australian writers who are making poetry cool again.
Rapper Bee is an anthology of over 60 poems where no topic is off limits. Liang's writing is uninhibited by logic in the most wonderful way – he writes of duelling Pencil and Rubber men, an ode to Scottish names and even a poem from the point of view of cheese! Liang is truly in touch with his childish imagination, as all the best children's writers are.
But RapperBee is not only a literary feast; it is a visual masterpiece. Liang styles his text to give readers an enriching experience and another layer of fun. A poem about mushrooms is shaped like mushrooms, the Moon Fish Chant is laid out in ocean waves, and he works with his illustrator to move the text to include the accompanying images. Altogether, the quirky layout of text gives the poems a unique dimension of space, making the reading experience so much more fun.
RapperBee's sketches are created by Anne Ryan, an illustrator and writer. Ryan's black and white drawings perfectly complement Liang's fun, engaging writing style. Both the writing and illustrations are deceptively simple, which is such a lovely way to encourage young readers, writers, and illustrators to try their hand at creating written and visual poetry. Because of that, RapperBee would make an excellent classroom resource for children across all primary school ages.
Fans of Elizabeth Honey, Shel Silverstein and Andy Griffiths will enjoy the humour and nonsensical fun of RapperBee.
Reviewed by Geni Kuckhahn