Renée Ahdieh, The Righteous, Hodder & Stoughton, December 2021, 432 pp., RRP $22.99 (pbk), ISBN 9781529368413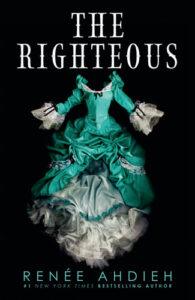 Vampires, werewolves, fey, fiends, magic and mystery all reside in New Orleans, if one knows where to look…
Arjun Desai is the only one who can help his friend Odette, who is facing the final death. His fey heritage allows him to cross into the Sylvan Vale, a place of beauty and cruelty, to retrieve a healer powerful enough to save her. However, he must tread carefully in the land he so despises, as prejudice runs deep and the haughty fey would love nothing more than to tear an ethereal like him to pieces, given half a chance.
There are mere days until Pippa Montrose shall be wed and become Pippa Devereux, and in securing this name be able to grant safety and security unto her family. All she's ever wanted. Except Celine is missing, and Pippa will be damned if she doesn't spend every last hour of freedom trying to ensure her best friend is okay. But when Pippa's sleuthing leads her to Arjun, she unknowingly follows him through to the Sylvan Vale, spelling trouble for all.
The Righteous is the third novel in Ahdieh's The Beautiful series. While I haven't read its predecessors (The Beautiful and The Damned) I was still able to enjoy the story, although I would strongly recommend reading them in order. This novel features two main points of view from previously minor characters Pippa and Arjun, with past protagonists Celine, Bastien, and Michael not appearing until far later in the novel. Pippa was my favourite character, a young lady who, unlike Celine, isn't impulsive, but struggles with indecision and anxiety. She values trust and security above all and has a deep sense of righteousness that she struggles to keep from turning into outbursts of rage in the face of injustice. She is a selfless, maternal person who would do anything to protect those she loves meaning she is a loveable and endearing character.
Discrimination and oppression are rife in this 19th century setting, and the true antagonist of Arjun, Pippa, and their friends. The prejudice and discrimination in the world have immense impacts on the characters, and their frustrations and revelations are clear in their narrations.
A seductive YA fantasy romance novel, The Righteous is the exciting third installment in New York Times Bestselling Author Renee Ahdieh's The Beautiful Quartet.
Reviewed by Libby Boas