Belinda Murrell, Puppy Pandemonium (Pippa's Island #5), Random House Australia, December 2018, 240 pp., RRP $14.99 (pbk), ISBN
9780143793267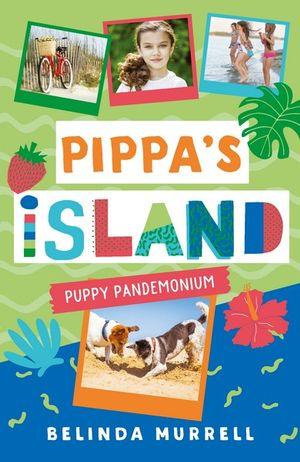 'Come on, boy,' I said. 'You've got to learn our Sassy Sisters motto- ''Be Brave! Be bold! And be full of happy spirit!"
Puppy Pandemonium is the fifth book in the upbeat Pippa's Island series by popular author Belinda Murrell.
So far in the series, Pippa and her siblings have been uprooted from the family home in London and moved to a caravan in their grandparents' back yard on a tropical island just off the coast of Australia. Pippa's father has moved away to Switzerland and despite the fact that Pippa now has to share such a tiny living space with her mother, brother and sister, she loves being so close to her grandparents and has made an exemplary job of fitting in and making the best of her new life in Kira Cove.
With the support of Pippa's best female friends, The Sassy Sisters, and the tight knit island community, work on her renovated home above The Beach Shack Café, is almost complete. Pippa cannot wait for the builders to finish so she can have finally have sleepovers in her very own room.
This fifth instalment sees the kids of Kira Cove enjoying a blissful, carefree summer, whilst Pippa battles with unwanted feelings of jealousy and resentment after such a long time going without new clothes or any special treats. But after some wonderful advice and some invaluable help from her friends, Pippa begins her very own dog walking business and is not only rewarded with the beautiful swimsuit she had been saving for, but with the realisation that she can make a real difference by helping other people.
Pippa chooses not to give up when chaos and disappointment surround her and with love, support and a reminder of just what the Sassy Sisters stand for, she begins to make her dreams come true. At the end of the day Pippa learns that she really is a very lucky girl.
There is a definite touch of Enid Blyton about this series with its island setting and the confident outgoing children with their very own club. However, unlike many Blyton stories there is a broad cross-cultural feel and a more definite parental presence, with most of the adults in this title proving themselves responsible, kind and positive role models for the younger characters.
As their club-name would suggest the Sassy Sisters are strong, clever and determined girls who spend their time working on creative endeavors and have an enviable knack for interior design.
The narrative is well paced and engaging with some beautiful imagery. The inclusion of the children's creative projects, delicious recipes and innovative business plans, gives the title an exciting scrap book feel, which younger readers will love.
There is a powerful friendship theme underpinning this whole series but book five also touches on the importance of gratitude, caring for the environment and protecting our wildlife.
Each story is sure to have widespread appeal for middle-primary aged children, particularly those with a creative flair. It touches on the struggles facing tween and early teen aged children, including the art of maintaining friendships, dealing with jealousy, feelings of anxiety over family issues and finding happiness in a new home.  I really enjoyed this title as an adult and found the glorious setting, authentic characters and their positive mindsets a real breath of sun-drenched, tropical fresh air.
Reviewed by Lisa Hoad