Ransom Riggs, A Map of Days (Miss Peregrine's Peculiar Children #4), Penguin Books, October 2018, 496 pp., RRP $24.99 (pbk), ISBN
9780141385914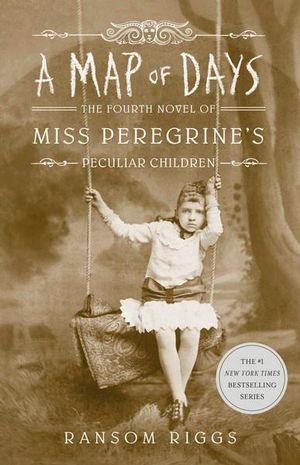 The fourth instalment in Miss Peregrine's Peculiar Children series, A Map of Days sees Miss Peregrine's wards enter modern day Florida. After the destruction of the loop which was previously the location of Miss Peregrine's home for peculiar children, the unusual group of adolescent outcasts join Jacob at his house. But things are complicated in Jacob's life. While he is somewhat of a celebrity in Devil's Acre after defeating the hollowgasts in Library of Souls, in present day America he is considered a social freak and, to top it off, his parents are attempting to have him forcibly committed. Not to mention his girlfriend's ex is his grandfather.
Amongst all this, Jacob is searching for his place in the world. He is torn between his acceptance with the peculiars, and with his sense of responsibility to his family.
Whilst exploring the house where his grandfather and fellow hollowgast hunter, Abe, was killed, Jacob makes a discovery which changes everything for him. And the more he learns about Abe, the more he discovers he had no idea of the man his grandfather really was. Jacob has to decide where his future lies – is it in the reconstruction of the peculiar world, or is it following in Abe's footsteps? And is there a greater threat facing them all?
Told with the inclusion of extraordinary, fascinating and sometimes disturbing Polaroids, Ransom Riggs' fourth novel in the series will delight fans. He weaves a world which balances precariously between that which is peculiar and that of the 'normals'. Once Jacob is decided on his path, the story races through an action-packed series of events destined to leave the reader longing for the next adventure.
Reviewed by Fiona Miller-Stevens