James Hart, Planet Pancake (Super Geeks #2), Penguin Random House, July 2021, 208 pp., RRP $14.99 (pbk), ISBN 9781760895143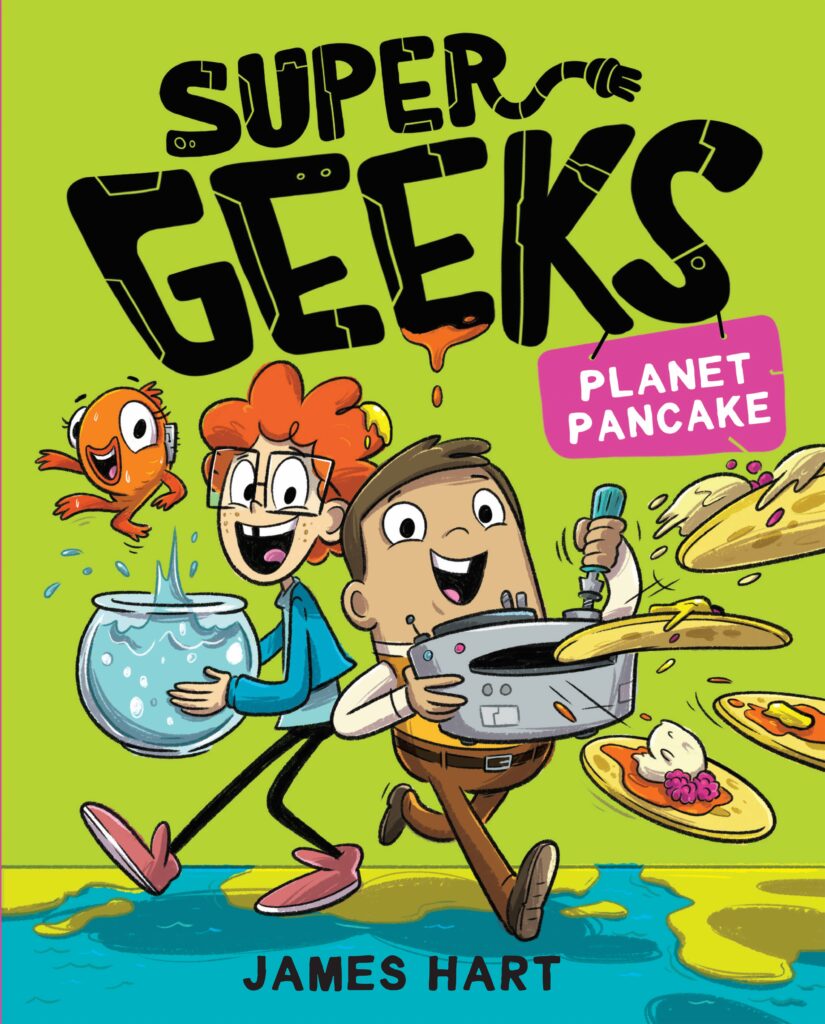 When Zeek and Arnie, best friends and SUPER GEEKS, hear about a trove of treasure hidden at the edge of the world (which may or may not be flat… they're not yet sure!), they decide to investigate. Zeek, of course, wants to use the treasure to fund his quest for WORLD DOMINATION! Arnie just wants to find out what happened to his latest invention: the Pancaker! Using their inventing skills to build a ship, the Enchilada, they sail, taking their super intelligent goldfish Eleanor along for the ride. But there's trouble brewing on the horizon. Watch out for pirates!
Planet Pancake is the second in the Super Geeks series by Melbourne-based illustrator James Hart, illustrator of such series as You Choose and The Day My Butt Went Psycho! Super Geeks is his first author/illustrator endeavour and is set to be a huge success!
Told in comic style, Planet Pancake is fast-paced and highly engaging. The mixture of speech bubbles and paragraphs is easy to follow, and the illustrations are frankly hilarious! Because of the high illustration-to-text ratio, this is a fantastic book for readers reluctant to transition from picture books.
Super Geeks has great potential to encourage children to get hands-on; inventing, exploring, and getting away from their screens. They might not have their own secret underground lab like Zeek and Arnie, but they could certainly have some zany adventure of their own if they take their lead from the Super Geeks!
Planet Pancakes celebrates ingenuity and the ability to think on your feet. Children embarking on their independent reading journey can easily enjoy this book as a stand-alone, though they'll have more scope for the overall story by reading the first in the series, Fish and Chips. James Hart has done it again!
Reviewed by Geni Kuckhahn