Sophy Henn, Pizazz: Book 1, Simon & Schuster, July 2020, 208pp., RRP $14.99 (pbk), ISBN 9781471193989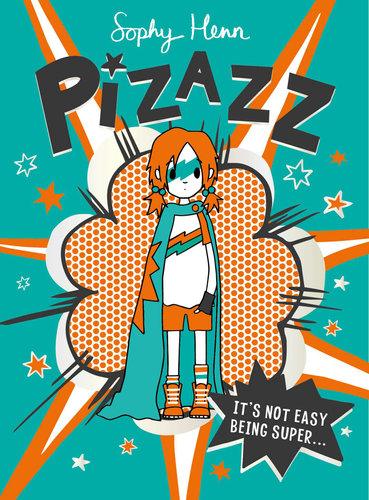 While it may sound great to be a superhero, it has its drawbacks dashing around all the time, being expected to save the world and wearing the same outfit every day are just some of the annoying things that nine year old Pizazz has to accommodate; as well as being good every day. All she really wants is to make friends at her new school and do normal fun kid stuff. 
There are two groups of people in Pizazz's life—Her somewhat irritating family who are a rather embarrassing bunch of superheroes and normal everyday people with whom she is desperate to feel a sense of belonging.
Fortunately for Pizazz when an issue arises in the town, she given the chance to get her wish. Big business has decided to demolish the park that all the children and families love so a carpark can be built on the site. This provides an opportunity for Pizazz and a few eco­friends to band together to prevent this happening. The school community put their trust in Pizazz, their very own superhero who they believe has all the skills necessary to handle the situation. But the task is not as straightforward as one might think.
Pizazz: It's Not Easy Being a Superhero is written in the style of a journal with the direct voice of Pizazz confiding her problems, failures and successes to the reader. The voice is very engaging giving an immediacy to the story which juniors will love. The dynamic illustrations and varied design effects on every page create a sense of drama and immediacy—part text, part graphic novel, part comic strip — which moves the reader effortlessly and suspensefully onto the next page.
Pizazz: It's Not Easy Being a Superhero is a great book. Henn has created an excellent story for junior readers who are sure to empathise with Pizazz's schoolyard problems, the growing pains of independence and finding the uncertain balance between pleasing family or forging friendships at decision making moments. I laughed, I wondered, I sympathised, and I really liked this well intentioned, young superhero. I am glad there will be more of them.
Reviewed by Jennifer Mors