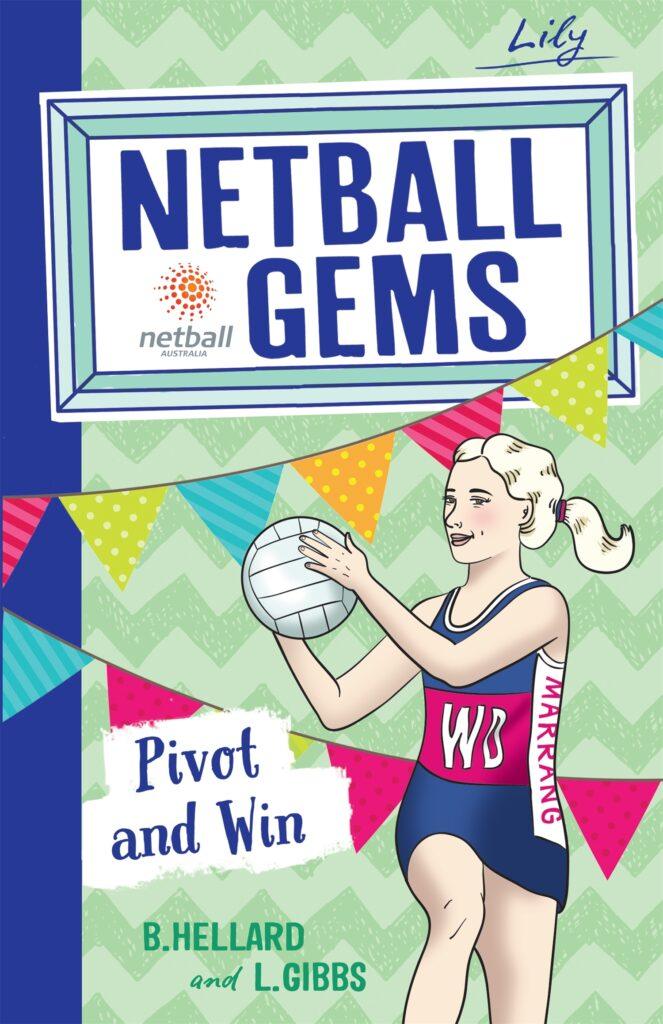 Bernadette Hellard and Lisa Gibbs, Pivot and Win (Netball Gems #3),  Random House Australia, 2 Nov 2015, 153pp., $12.99 (pbk), ISBN 9 780857 987686
Bernadette Hellard and Lisa Gibbs,  Defend to the End (Netball Gems #4),  Random House Australia, 2 Nov 2015, 154pp., $12.99 (pbk), ISBN 9 780857 987709
Netball Gems are cheerful novelettes for netball fans; a series about an under 13s netball team called the Marrang Gems. Each book is about one of the members, their positions on the team and their worries and triumphs. In the telling of each story, information on how netball is played and how a player can improve their skills is included. 
Pivot and Win is about Lily who is worried about that she is too small and finds it difficult to always obey the coach, who is also her mother. The netball information woven into her story is about passes, stepping rules, jumping and pivoting. The morals in the story are about being a team player and the importance of practicing.
Defend to the End is about Maia who has just moved to Australia from New Zealand and is homesick. The netball information is this book is about different methods of defence and the issue covered in this book is the importance of adapting to change but still sharing your skills. 
Netball Gems are written by two sisters in partnership with Netball Australia. Lisa Gibbs is an academic who specialises in child health and well-being. Bernadette Hellard is a primary teacher who specialises in literacy and physical education. They have both played at A-grade level, coached and umpired.
The series is aimed at 8-12 year olds and netball devotees will love the stories and the tips they learn as they follow the characters. However, if a reader is not a netball devotee, they won't find the books as interesting. The characters and plots are not as developed, as a Noel Streatfeild book, for example, where the characters are appealing to a wide variety of readers, even if they are not interested in their hobbies.
Reviewed by Katy Gerner