Aaron Blabey, Pig the Grub, Scholastic Australia, September 2018, 24 pp., RRP $17.99 (hbk), ISBN 
9781742769691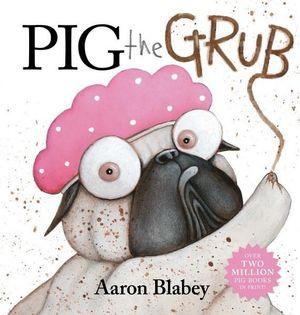 If you don't mind getting your hands a little dirty, then you'll want to pick up and hug the latest in the Pig series, Pig the Grub! Aaron Blabey keeps rolling them out,and this time it's just as good as a pig rolling in mud! Literally!
'Pig was a Pug and I'm sorry to say…' Well, you know how it goes. Pig's hygiene is a cause for concern in this romping rhyming story, splattered with delightful synonyms (for smelly!), splashed with the best kind of disgusting, and smeared with tons of sick humour. Pig gets himself in all kinds of gross messes, including licking up old milk, playing with doggy doo and drinking from the toilet. But when it comes to bath time, well, that's when the real fun begins! Pig hatches up a grand plan to sabotage the bathing experience, but you guessed it, it blows up in his face. Again! Literally! Will he ever change?
Personally, I found Pig the Grub to be one of the better in the latter part of the series. Its meter flows well and the book introduces new language that children as young as three can grasp. Of course, its humour is not for the faint hearted, but those fans of Pig already know they will get a good belly laugh from these controversial books. Highly entertaining, begging for plenty of re-reads. Highly recommended.
Reviewed by Romi Sharp