Dav Pilkey, Lord of the Fleas (Dog Man #5), Scholastic, September 2018, 256 pp., RRP $16.99 (hbk), ISBN 
9780545935173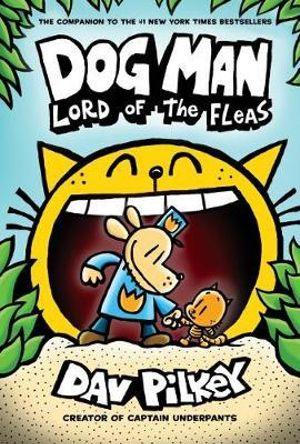 From the ever popular U.S. author of the Captain Underpants fame is Dav Pilkey with yet another brilliant graphic novel in the Dog Man series; #5 Lord of the Fleas. At the top of their game being New York Times bestsellers for over two years, Australian readers in the junior to middle grade market have equally savoured these books that absolutely engage even the most reluctant readers. Like the others, Lord of the Fleas contains heavily illustrated, comic style spreads across manageable chapters in full, vibrant colour and inexhaustible energy. It includes a fun, new 'flip-o-rama' feature that brings readers right into the cinematic, animated action. So ingeniously interactive!
The storyline is also highly engaging, as narrated by 5th graders, George and Harold who, with perhaps some slight confusion, have been inspired by the classic literature, Lord of the Flies. Their story involves central themes around savagery, consequences, the construct of morality, and a ring (no, scrap that last one, it's not Lord of the Rings!). Dog Man and pals are on a mission to stop the evilest cat, Petey from being a jerk. Meanwhile Petey has created a clone of himself, which turns out to be the cutest little kitten and sidekick to Dog Man and his robot, 80-HD. And meanwhile, a new bunch of baddies (the FLEAS: Fuzzy Little Evil Animal Squad) want their revenge on Petey for a childhood betrayal. Plenty of lively and suspenseful adventure bursts effectively in amongst the cleverly cut transitions from scene to scene as in a well-edited movie. Plotting villains, cop-action, (bad) jokes and lessons in how to be responsible, how to love and just be good even when the world seems cruel – it's all there.
Notes at the end tell us of the inclusion of superb references to other literary classics, including William Golding, Mark Twain, Dr. Suess and an inspiring poem by Kent M. Keith. There are also delightfully entertaining instructions on how to draw the characters, as well as a valuable section on the benefits of reading to cats. Dog Man #5: Lord of the Fleas is original and witty, interactive and paw-sitively insightful. Recommended for kids from age seven.
Reviewed by Romi Sharp