Remy Lai, Pie in the Sky, Walker Books Australia, June 2019, 384 pp., $18.99 (pbk), ISBN 9781760651626,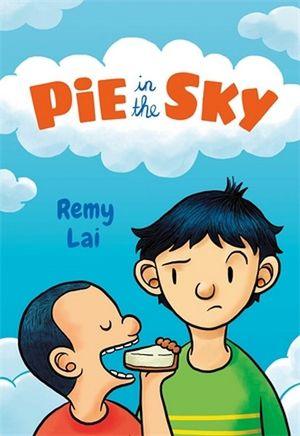 Pie in the Sky tells the story of two brothers – Jingwen and the younger Yanghao – who emigrate to Australia with their mother from Asia. Their father was to have accompanied them to this "land of opportunity", however he died in a tragic accident not long before they were to leave their homeland.
While Jingwen struggles with the language, his young brother Yanghao seems to adapt to life on "Mars" with greater ease. Life is complex for Jingwen. He is the eldest and therefore responsible for his brother and he must also provide support for his mother as they take on this new life. The rest of their family are far away. But most of all, Jingwen misses his father and their shared dream of opening a bakery.
Pie in the Sky is a humorous, gentle story of a young family doing their very best to fit in. Jingwen takes on the task of not only learning but understanding a new language with seriousness and uncertainty – and maybe some resentment. He thinks the children at school don't like him and often misinterprets situations. Yanghao, who is more outgoing and self-confident, soon makes friends and masters enough of the language to get by. He is especially fond of the word "idiot."
Amid the serious theme of this book emanates the lovely natural relationship between the brothers and numerous quirky incidents along the way. Regardless of cultural background, these young boys are no different than any other brothers. They argue, tease, annoy and care for one another in their own particular ways – united and frustrated with each other.
The conversational language and absolutely exacting dialogue in this book are delivered within a humorous framework while maintaining a clear sensitivity to the situation. And the illustrations are brilliant with some of the book foregoing text for comic-book drawings, beautifully rendered and cleverly astute. For those less keen on reading, this variety of presentation provides a welcome break from text only pages.
Pie in the Sky is written for children of 8 years and over, however, it is a good read for a broad ranging audience. Remy Lai has clearly demonstrated what it must feel like to find oneself on "Mars" where everything is different and where the ability to communicate has been suddenly taken away.The light-hearted and heart-warming approach never diminishes the seriousness of the dilemmas faced by Jingwen's family. Pie in the Sky is a wonderfully timely book about understanding, tolerance and kindness.
Suitable for 8 years +
Reviewed by Jennifer Mors