Katherine Battersby, Squish Rabbit's Pet, University of Queensland Press, April 2019, 32 pp., RRP $21.95 (hbk), ISBN 9780702260469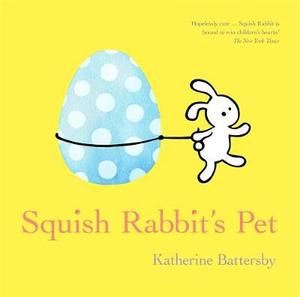 Squish Rabbit's Pet is the third, unapologetically cute Squish Rabbit story from critically acclaimed children's author-illustrator, Katherine Battersby.
Squish is just a little rabbit, but being little leads to big dreams… Most of all, Squish dreams of having a pet.
Squish would dearly love to have his own pet puppy, but he doesn't know where to find one. With a caring determination and some help from his best friend Twitch, Squish Rabbit is able to embrace the unexpected and find the pet of his dreams.
Squish is the most loving, loyal and squishable little rabbit around, and early readers will be sure to fall in love with Battersby's vulnerable little character and her endearing tales of friendship and discovery.
But Squish had saved the lonely egg. He'd raised it himself. He had to make a big decision… to love whatever came out.
Each sensitively told story shows its young readership that being little should never get in the way of their big dreams. With Battersby's deliciously bold, mixed media illustrations and a bright, squishy cover ideal for little hands, the adorable Squish Rabbit's Pet is sure to become a bedtime favourite.
Reviewed by Lisa Hoad