Remy Lai, Pawcasso, Allen & Unwin, May 2021, 240 pp., RRP $16.99 (pbk), ISBN 9781760526771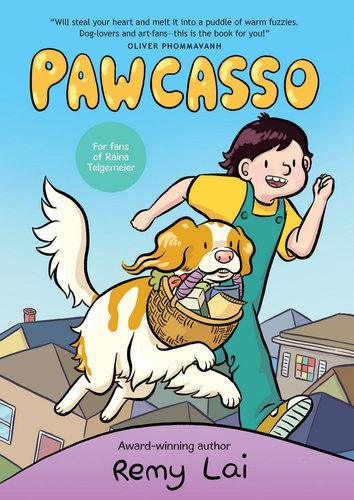 Pawcasso by Remi Lai is the story of eleven year old Jo who, in an attempt to make friends, tells a small lie that snowballs into a huge one. When Jo, who has spent most of her summer staring moodily out her window, spies a dog with a basket in its mouth trotting down the street, of course she has to investigate. She follows it to the local shopping circle where the dog enters various shops and 'buys' items written on the list in its basket. When Jo follows the dog into a bookstore where an art class is taking place, she is accidentally mistaken for the dog's owner. Before she can explain, she's promised to bring the dog, Pawcasso, back next week to be the art class' supawmodel. From there things snowball when Pawcasso becomes locally famous and is apprehended by the dog catcher and told he can't shop off leash anymore. Two groups form – one that wants Pawcasso to be allowed to shop, the Picassos, and another, the Duchamps, who don't want dogs allowed off leash.
Pawcasso is clever, entertaining, and filled with dogs, so really, what's not to love? It also brims with perfect middle grade humour, subtle and not so subtle – poop jokes anyone! But humour aside, there is also a real depth to this tale, shown not only through the stunning art, but also through the prose itself. It is the kind of story that you want to read again and again and each time you do you will learn a little more, gleaning insight from the art and prose alike.
I love that way the story shows both sides of the argument surrounding dogs and leashes and that it does it in a smart and interesting way. I can definitely see some class debates being set up as Pawcassos vs Duchamps. And that's another thing Remy Lai manages to do deftly: inset lots of interesting facts about art and artists without sounding teachy or bogging down the narrative. She also manages to weave in a deeper family theme around love and hate and the question 'If love comes from the heart, does hate come from the brain?'
I wish I could talk more deeply about the art, but I am no art expert. What I can say is that I found it added a lot to the story and I liked Lai's style, expression, and choice of colour.
Remy Lai also created the award-winning story Pie in the Sky. I haven't read it yet, but after this one, it is definitely on my reading list.  
A clever, interesting, and beautifully put together book, Pawcasso is perfect for kids aged 8-12 who love art, dogs and graphic novels. It will appeal to readers of The Diary of a Wimpy Kid, Anh Do's Weirdo and Guts. 
Reviewed by Renee Mihulka