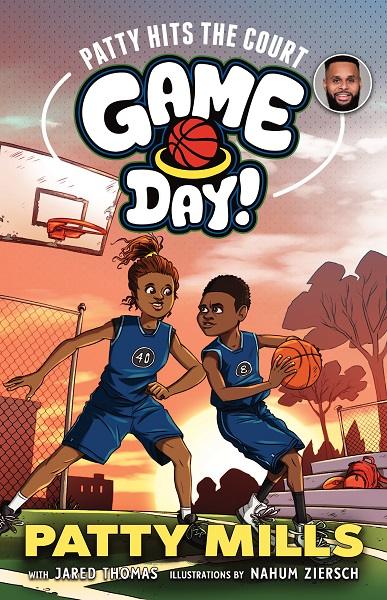 Patty Mills and Jared Thomas (text),  Nahum Ziersch (illus.),  Patty Hits the Court (Game Day #1),  Allen & Unwin,  August 2017,  128pp.,  $14.99 (pbk), ISBN 9781760295103
Patty Mills and Jared Thomas (text),  Nahum Ziersch (illus.),  Patty and the Shadows (Game Day #2),  Allen & Unwin,  August 2017,  128pp.,  $14.99 (pbk), ISBN 9781760295110
Australian basketballer Patty Mills has partnered with author Jared Thomas and Allen and Unwin to produce a series of books about a sport-mad character, also named Patty Mills. Patty the fictional character has much in common with the real Patty: he goes to school in Canberra, he loves all sports, his mum is from the Kokatha people in South Australia and his dad is from the Torres Strait, and he is a member of a Torres Strait Islander dance group.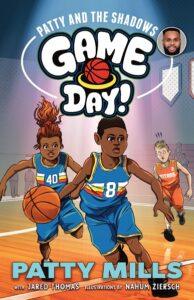 In the first book, Patty Hits the Court, we meet Patty and learn that his favourite sport is AFL. At the end of football season Patty is convinced to try basketball by his friends and the school basketball coach. Although he struggles at first to learn a new sport with new rules, he learns that with perseverance he does improve.
In the second book, Patty and the Shadows, Patty is asked to join a new local basketball team called The Shadows. This causes conflict with some members of his school basketball team as he is now playing against them on weekends. Patty is also trying to keep up with his school work and his dancing, and he has to learn to balance the priorities in his life.
These are short chapter books, with bigger text and black and white illustrations, suitable for newly independent readers and middle to upper primary. Patty will be a relatable character, especially to the sports-mad kids out there. Each book mentions at least one basketball game that the real Patty Mills has played in, and young readers may be inspired to look them up or learn more about Patty. Should do well in primary school and public libraries.
Reviewed by Rebecca Kemble