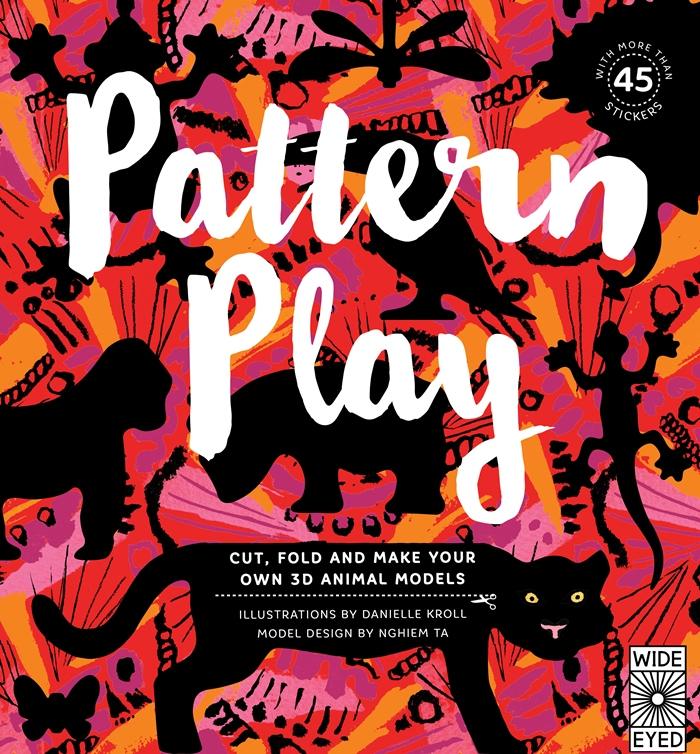 Danielle Kroll (illus), Nghiem Ta (model design),  Pattern Play: cut, fold and make your own 3D animal models, Wide Eyed Editions/Murdoch Books, April 2016, 48pp.,  $19.99 (pbk). ISBN 9781847807328
So much is packed into this lovely craft book. Ostensibly an animal cut out book, it is filled with vibrant patterns, interesting facts about real life animal patterns, inspiration for playing with the animal models and fabulous crafty suggestions and instructions for using up the left over scraps.
Most of the pages in this book are coloured card on one side and cut-out pattern on the other. The card is a nice thickness for the animal models to be able to stand up for playing. The patterns are more abstract than true to life, with the emphasis more on colour and design than realism e.g. the hippo is pink, the elephant is blue, but the pattern echoes the texture of their skin.
On first flicking through, the book acts like a guess who game to discover what animal will be on the other side of the pattern.
Dexterity is needed for cutting out cleanly, and although most are fairly simple smooth lines, adult help may be required for a neat finish. Stickers to personalise the models with faces, tails ears etc. conclude the book.
There are hours of engrossed play in this sumptuous package. I would have loved this book as an animal crazy and craft loving mid-primary child! I hope that in the fast paced days of consumer culture children can still enjoy these simple pleasures. Note: not suitable for children under three due to choking hazard.
Reviewed by Debra Tidball