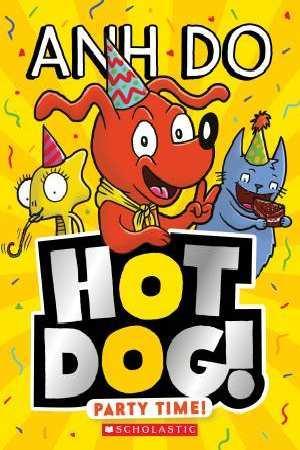 Anh Do (text),  Dan McGuiness (illus.),  Party Time! (Hotdog #2),  Scholastic Australia,  1 June 2017,  128pp.,  $12.99 (pbk), ISBN 9781760279011
Here is the second in the new Hotdog series from Anh Do. It's Kevin the cat's birthday and Hotdog the dachshund and Lizzie the iguana are throwing him a surprise party. But it's not easy – they have to distract Kev, set up the party, buy his present and foil the plans of two thieving bullies! Can they give Kev the best birthday ever?
This is a fast paced story with plenty of action and physical humour. There are lots of things kids like and can relate to in the story – party food and games, presents, bikes and baddies falling over.
However the book colour scheme is lacking somewhat – the illustrations are black and white with pops of yellow, and some of the text is yellow as well. There are also yellow speech bubbles with white writing, and sometimes the yellow-on-white or white-on-yellow text isn't easy to read. Apart from the colour choices, the design of the book is good and the cartoon style illustrations are funny and will be appealing to the target audience. This book should do well in primary school and public libraries.
Reviewed by Rebecca Kemble