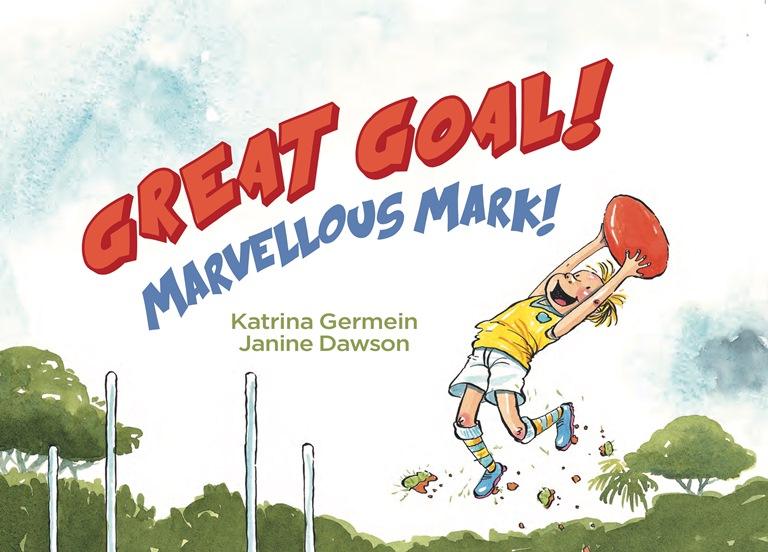 Katrina Germein (text),  Janine Dawson (illus.), Great Goal! Marvellous Mark!,  Ford Street, June 2017,  32pp., $16.95 (pbk), ISBN 9781925272673
This is a very contemporary Australian picture book. There is a weekend Aussie Rules football match starting and the kids are enthusiastic and keen to win. The narrator is one of the players and he tells the story like a commentator calling a game. Can the Yellow Team take the day?
Here is an alphabet book with a difference. Each page emphasises a different letter, starting with A at the pre-game warmup, and ending with Z and the narrator fast asleep post game. The featured letter is singled out in the text in red and bold. As might be expected there is plenty of alliteration and AFL jargon, though the text is minimal.
The illustrations are full of movement and detail, there is plenty to look at for the observant reader. The football field is portrayed in a very wintry and Melbourne way – rain, mud and parents rugged up on the sidelines. The weather clearly doesn't dampen the spirits of the players though, they are focused and committed.
This book is sure to be devoured by young AFL enthusiasts and will no doubt be in high demand in public, preschool and primary school libraries, particularly in those AFL-following regions of Australia!
Reviewed by Rebecca Kemble