Jackie French (text) and Bruce Whatley (illustrator), Pandemic, Scholastic Australia, November 2020, 24pp., RRP $24.99 (hbk), ISBN 9781760976088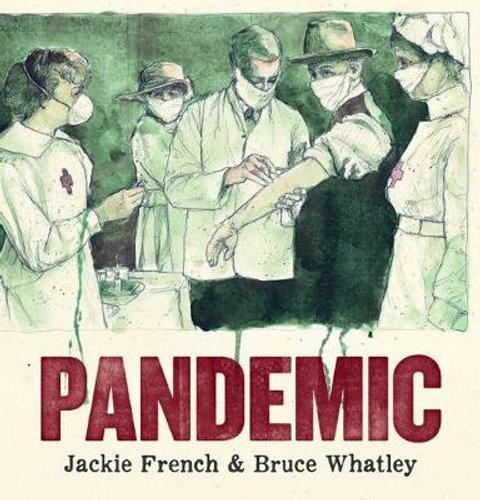 From the award-winning creators of Flood, Fire, Cyclone and Drought comes Pandemic – a compelling story depicting the time when the war carried the Spanish Flu across the world. At the end of the book, author Jackie French explains that her story was inspired by the stories her Grandmother shared with her about the Spanish Flu pandemic and the effects it had on children and families in her community. 
The language used powerfully captures the loneliness, fear and isolation of the time yet also highlights the power of kindness, empathy, and community during times of struggle. The children and the healthy unite to keep the community moving by milking the cows, feeding the animals, tending the vegetable gardens, and baking for the unwell – in the end 'Quarantine and kindness had won!'
Bruce Whatley has used a limited yet warm colour palette for his illustrations which effectively contrast the dark and serious times with the brightness of kindness and community.
Fitting for the current experiences of the world with the COVID-19 pandemic this book is a simple yet valuable resource for children as it shares a similar moment in history with a hopeful message.
Reviewed by Raquel Mayman