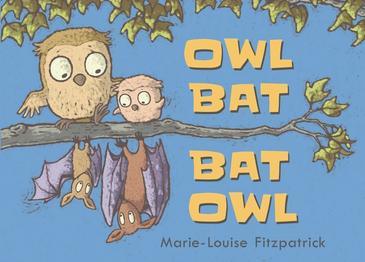 Marie-Louise Fitzpatrick,  Owl Bat Bat Owl,  Walker Books Australia,  1 Oct 2016,  32pp.,  $24.99 (hbk),  ISBN: 9781406364392
One tree branch, two very different families. Will these two families be able to get along?
Owl Bat, Bat Owl is a wordless picture book that tells a tale of an owl family and a bat family after the bat family makes the owl's branch their home – owls on top, bats hanging from below. Initially the two families stay well apart, the parents trying to keep their curious young from mixing. But one day, as disaster strikes, the two families discover they do have something in common after all.
This is a delightful and engaging book. The full-page illustrations seem simple at first, and the colour palette is basic. Yet small details, such as the array of emotions depicted through the owl's eyes, tell the story clearly and beautifully. The transition from day to night, with the moon gradually rising in the sky, provides further interest and a pleasing backdrop for the story.
Owl Bat Bat Owl is a charming tale of learning to get along and the positives of forming new friendships. Recommended for 3-6 year olds.
Reviewed by Bec Blakeney