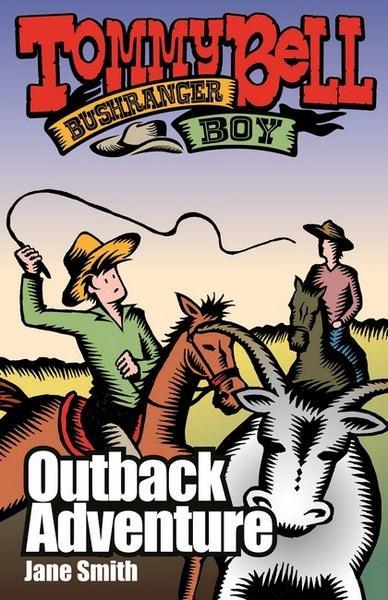 Jane Smith, Outback Adventure (Tommy Bell Bushranger Boy #4), Big Sky Publishing, Sept 2017,   112pp.,  $12.50 (pbk), ISBN 9781925520842
Outback Adventure is the fourth in this fantastic series about the young time-travelling Tommy Bell who goes back to the time bushrangers roamed the country whenever he dons a mysterious cabbage tree palm hat. This time he accompanies his bewildered friend Martin in an adventure with the cattle stealing Harry Readford.
Tommy's friend Martin goes back in time first – after he finds and tries on a pair of battered old boots with the same powers as Tommy's hat. Naturally, Tommy has to go after him as he knows Martin is unused to time travel.
Outback Adventure begins in Bowen Downs, Queensland on Martin's family farm. When the boys go back in time, they join a group of men herding cattle to be sold in Adelaide in 1870. The boys don't realise that the cattle are stolen, so they travel through the desert and mostly enjoy their adventures, even though they involve sleeping on the ground and becoming extremely smelly because they cannot take off their time travelling attire. Martin and Tommy watch stockmen at work, see a mirage, meet an Aboriginal man, buy goods in a store and observe Readford's trial in the Roma Courthouse.
Outback Adventure ends with the usual historical note and a question and answer session with the bushranger and, like the other Bushranger Boy books, they are a wonderful way of introducing Australia's colourful history to children (and their parents).
Reviewed by Katy Gerner