Steve Heron, One Thousand Snapshots, Shawline Publishing, November 2021, 200 pp, RRP $21.99 (pbk), ISBN 9781922594747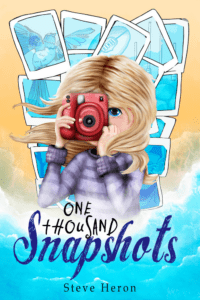 If a picture is worth a thousand words, then a thousand pictures are worth a million words.
So begins One Thousand Snapshots, a heartwarming story of a young girl navigating grief and loss in a world of confounding emotions. Convinced she had some part to play in the death of her father a few years earlier, eleven-year-old Maddy sets out to take one thousand photos of moments in time, wishing she could share them with the people she loves. Along the way, she encounters a djidi, a willie wagtail that instils hope, changing the course of her journey.
A quote and sketch of a photo set the tone for each chapter, with text messages woven throughout. Seen through Maddy's eyes, the action and characters will ring true to young readers, though at times, her inner dialogue veers to telling (Maybe I'm worrying too much. I haven't been my bubbly self lately) not showing.
An uplifting middle grade story with a laudable goal: to empower children to navigate life's challenges, grief, and loss to name just a few issues, while safeguarding their emotional wellbeing.
Did you know the collective noun for willie wagtails is an impertinence? I love that.
For ages 8+ years.
Reviewed by Maura Pierlot