Amanda Wood (text) and Bec Winnel and Vikki Chu (illustrators), Goodnight, Little Sloth, Wlaker Books, 24 pp., RRP $19.99 (hbk), ISBN 9781913520335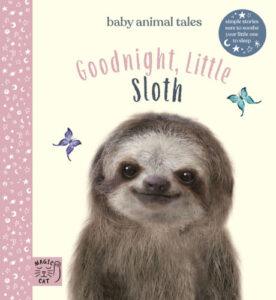 As the parrots hurry about the jungle, eager to see wonderful things, Little Sloth takes life slowly. He sways, snoozes, and watches the world go by. In doing so, he sees many wonderful things – including the once-a-year event all the animals have been waiting to see.
Goodnight, Little Sloth is a charming bedtime story for young children aged 2+ as the simple and soothing story is engaging, but not so exciting it will rile them up before bed. The message of being patient and slowing down to enjoy the little things in life will resonate with kids and grown ups alike. Nature lovers will enjoy seeing Little Sloth's observations, many of which they may have spotted themselves.
The illustrations combine photographs with illustration for a beautifully pared-back effect. The watercolour illustrations are colourful but use natural, earthy tones. Little Sloth is incredibly cute and snuggly, making him the perfect bedtime companion. Goodnight, Little Sloth is the fifth book in the Baby Animal Tales series, following on from Duckling, Bunny, Penguin, Llama, Panda and Monkey.
Reviewed by Laura Holloway