Tim Harris (text), and James Hart (illustrator), On the Lookout (Mr Bambuckle's Remarkables #4), Penguin Random House, February 2019, 240 pp., RRP $14.99 (pbk), ISBN 9780143793144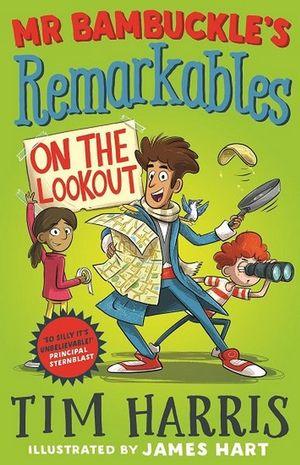 Mr Bambuckle and his remarkable class are back again in the fourth book of the series. The story begins where the last one left off – at the campgrounds with Miss Frost considering the implications of a runaway student, Vex Vron. She realises with much irritation that she must work together with the teacher in order to keep her job. This involves some clandestine shenanigans to keep the runaway a secret from the principal until the class can decipher the clues and solve the mystery. And what is happening to Miss Frost's hair?
Two new students tell their story, giving the author an opportunity to comment wryly about parents with unreal expectations and a school system which champions data over creativity, both of which can put undue pressure on kids to perform. Humorous banter and puns abound. Primary readers will love the outlandish antics and be shocked and delighted with what the class is allowed to get up to in school. Above all, Mr Bambuckle allows the students to shine and there is a gratifying conclusion.
The inclusion of student profiles at the front are a great reference and the comical illustrations enhance the read, helping to put a face to the many characters. Recommended for middle primary aged children or for anyone who loves a laugh. Also available as an eBook.
Reviewed by Sharon Seymour