Sophie Masson (text) and Simon Howe (illustrator), On My Way, Scholastic Australia, June 2019, 24 pp., RRP $15.99 (pbk), ISBN: 9781742994093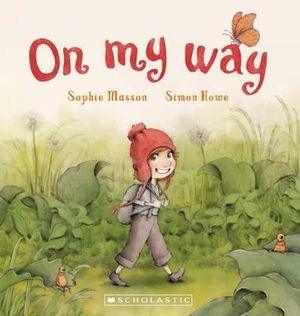 'On my way to school, Mumma, guess what I saw?'
'I don't know, little one, please tell me more.'
Shortlisted author, Sophie Masson and artist, Simon Howe have created a delightful tale of one child's wonderous adventures whilst travelling to and from his beautiful woodland home.
On My Way tells one little boy's extraordinary story as he relates it, using richly imaginative, yet simple verse, to his amused mother. As the child recounts these fantastical sights, his mother listens whilst busily tending to their vegetable garden and assures him that these visions are nothing out of the ordinary. The entertaining tale comes to an end with a fabulous little twist, that certainly challenges the possible assumptions made by any adult readers whilst sharing this picture book.
Young readers, no doubt, will pick up on the visual clues in Simon Howe's exceptional illustrations. His full-spread woodland illustrations are steeped in the kind of magical mythology young readers will adore, with a troll, a dragon, a witch, and a ghost all making an appearance alongside the whimsical animals and beautifully painted nature scenes. Each colourful illustration is bathed in a richly organic, olive-green light, as if the story is unfolding beneath a dense forest canopy, deep within a woodland grove where faery folk might dwell.
On My Way will delight young readers (three years and above). It is a perfect choice for a magical bedtime story whilst its basic rhyming pattern, rich visual language, and themes of outdoor explorations in nature make this a great title to share in an early-years setting.
Reviewed by Lisa Hoad