Andrew Daddo (text) and Jonathan Bentley (Illustrator), Old Friends, New Friends, HarperCollins, June 2019, 30 pp, RRP $24.99 (hbk), ISBN 9780733338137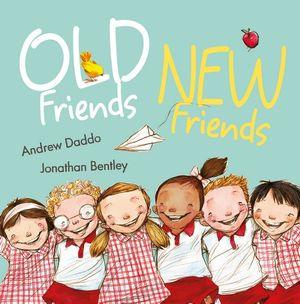 From the author and illustrator of First Day and When I Grow Up comes a new empowering and relatable picture book Old Friends, New Friends about making friends and being yourself.
A brand-new school year! I can't wait!
Hang on … None of my old friends are in my new class …
Old Friends, New Friends tells the story of how one little girl's joy and excitement turns to nerves and disappointment when she realises that a new school year also means new classmates and the need to make new friends.
This common childhood anxiety is shown brilliantly within the story by the kind of physiological sensations that young readers will recognise, (the cartwheels in the tummy, sweaty hands and the urge to keep smiling because if you stop you may need to cry). Jonathan Bentley also communicates these fledgling emotions perfectly in the delicate facial expressions of his sketchy, watercolour illustrations.
With the memory of her mother and grandfather's wise words, our little girl decides to be brave, find a smile, and believe in herself.
And of course, the first thing to remember is – my very best BFF will always be me.
Soon new friends are being made and a fun-packed day is enjoyed by the whole class.
This sensitive, vibrantly illustrated title explores the idea of friendships new and old, the different kinds of friends we might like to make and the importance of finding and using our own inner strength as a starting point for connection.
An ideal picture book to share with a new class of children, or with a child at the beginning of a new school year.
Reviewed by Lisa Hoad