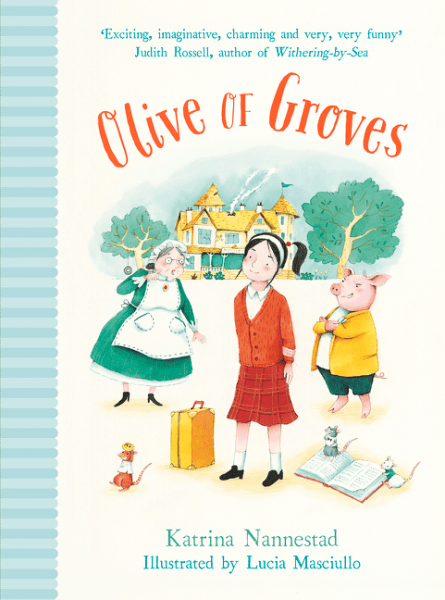 Katrina Nannestad (text), Lucia Masciullo (illus), Olive of Groves, ABC Books/HarperCollins, 1 Nov 2015, 272pp., $19.99 (hbk) ISBN 9780733333682
I loved boarding school books when I was growing up – The Naughtiest Girl, The Little Princess, What Katy Did at School. The idea of going away to school seemed so exciting. And so it is for Olive, the main character in award-winning Victorian author Katrina Nannestad's latest novel. Olive has been raised by her grandparents in a small village and enrols in Mrs Grove's boarding school to further her education. But this school is not at all that Olive expects. This school caters specifically for circus performers, naughty boys and talking animals – none of which describe Olive. Although she is determined to fit in.
The unusual combination of characters makes for a story which is a bit too unrealistic for my tastes, but the madness also gives it a sense of fun I expect will appeal to many in the target 8-12-year-old audience.
The story is well-written and I enjoy the way the narrator speaks directly to the reader, like one friend telling a story to another, akin to Enid Blyton. The scene is set immediately when we are told the headmistress is "completely bonkers" and couldn't bring herself to demand good behaviour from her students. She is a fumbling mess, who turns a blind eye, rather than dealing with the mischief, naughtiness and even bullying at her school.
School bully Pig McKenzie – who is an actual pig – targets Olive and her new friends, but the kind-hearted heroine refuses to give in to his demands. She is courageous and smart and fiercely loyal to her comrades.
Olive of Groves is a beautifully-presented book. It features 13 full-page, black and white drawings by Italian-born, Gold Coast illustrator Lucia Masciullo, as well as smaller drawings throughout. The illustrations are lovely and help bring the story to life. There's 36 chapters, so it can easily be broken up and read over a few sittings. There is also cast of characters provided at the start of the book, which is helpful in keeping the characters straight and also setting the scene, for example: Chester the brown rat, button enthusiast and thief; Jabber, knife thrower of dangerous mistakes; Carlos, explosives expert.
Olive of Groves has just been announced on the Australian Independent Booksellers Children's Shortlist for The Indie Book Awards 2016. Winners will be announced on Wednesday, 23 March 2016.
Teaching Guides for Olive of Groves are available on the HarperCollins website.
Reviewed by Carissa Mason