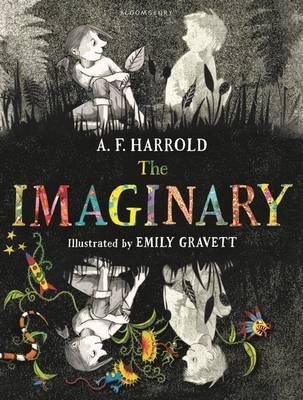 A. F. Harrold (text), Emily Gravett (illus.), The Imaginary, Allen & Unwin,  Nov 2015, 221pp., $16.99 (pbk), ISBN: 9781408850169
Step into the world of imaginary friends with Amanda and Rudger. Rudger is Amanda's best friend. She met him one day when she was hanging her coat in her wardrobe, which is where you meet an Imaginary. Amanda lives with her mother who works from home, and is quite happy to accommodate Rudger, even if she is unable to see him. Amanda realises she is the only person who can see Rudger when she takes him to school to introduce him to her friends. Rudger is Amanda's own Imaginary, until Mr Bunting comes to visit. Mr Bunting survives by eating Imaginaries and follows Amanda for Rudger. When Amanda is hit by a car while trying to run away from Mr Bunting, and subsequently taken to hospital, she is parted from Rudger. Rudger begins to fade but is rescued.  He begins the search for Amanda while trying to avoid detection by Mr Bunting and his ghostly unnamed assistant. His search for Amanda takes on a myriad of experiences, meeting various characters, both imaginary and real.
This is a most enjoyable book, both visually and verbally. I am quite sure it would make a brilliant read aloud. The narrative is well paced with an interesting and authentic plot. The language used is lyrical, creating an atmosphere young readers, or listeners, will easily slip into. It is wonderfully written from a young person's perspective, while at the same time using a wide vocabulary and higher-level language, perfect for enriching young minds. "The Radiche household seemed, to Rudger's mind, to be a rather highly-strung place, with too much useless emotion sloshing round and about." (p. 146)
The visual layout and design works well with the text, similar to that of a picture book. This is more than just an illustrated novel. Astute readers will link the old sheepdog in the illustration on page 96 to a previous conversation between Amanda's mother and grandmother about Amanda's mother's old imaginary friend (page 27). Readers will also enjoy the change in font colour when the lights go out at Amanda's house, adding to the suspense. This book is a perfect package, with Gravett's illustrations and Harrold's rich language. Highly recommended.
Reviewed by Liz Derouet