Ian Trevaskis, Of Boys and Boats, Ford Street Publishing, September 2020, 314 pp., RRP $19.95 (pbk), ISBN 9781925804515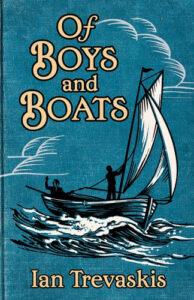 When his dog Skip is hit by a car, early teenager Jack Spiller meets his reclusive neighbour, 'Mad' Mick Metcalf, who splints the dog's leg allowing Jack to become a part of Mick's sad life. The novel reveals some of the lingering legacies of the First World War, how Melbourne responded to the 1956 Olympic Games and the varied reactions of locals to the influx of immigrants.
Jack and his mates cope with bullies at school, a sick father, crutches and learning English. Heinrich, a German Jew, one of those mates, quotes Banjo Paterson's classic poems, and shares his curiosity about life in Australia with Anna, an Italian migrant. With Percy, suffering from poliomylitis, the three boys and Anna complete the building of a boat as their problems recede behind the memories of Mick, his brother Clive and fiancée Edith.
Trevaskis has cleverly melted these into an account of a Melbourne mad on the Olympics, interweaving a plot combining bullying, bigotry and intolerance and mateship, generosity, and courage. It is an engrossing story, full of adventure and real life fun.
Reviewed by Stella Lees