Lauren Child, The Goody, Orchard Books, September 2020, 32 pp., RRP $24.99 (hbk), ISBN 9781408347584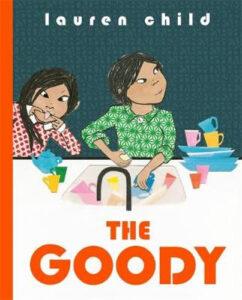 Chirton Krauss is a good child. The 'goodest' we are told. He does everything that's expected of him, even when he doesn't want to. His sister, Myrtle, is not a good child. Everyone tells her so. 
Lauren Child (of Charlie and Lola and Clarice Bean fame) has created something wonderful here. Firstly, the book just looks gorgeous. The patterned collage illustrations seem almost tactile, and the colours are en pointe. Then there's the writing that draws readers in with its voiceover narration feel and intimate commentary and asides. Basically, it's just a pitch-perfect picture book.  
But let's dive deeper. At first glance, The Goody is a neat little tale about siblings and growing up and being yourself. However, its themes run much deeper than that. I think this book is really an exploration of roles that kids can become shackled in — a cautionary tale about how limiting a reputation can be.  
The Goody explores the tensions of identity — of how a stronger sense of self can emerge as kids begin to question the narrative that's been created for them by adults' perceptions and expectations. Chirton comes of age in that he learns how to be an autonomous person. He starts to wonder if being good is all it's cracked up to be, and when Chirton challenges the status quo he realises that he ultimately wants to do things that are considerate, but he doesn't have to do 'right' just to be a pleaser. Myrtle also experiments with who else she could be, and they become closer as their superficial differences abate.   
I imagine this book could kick start some delicate conversations in households with different expectations or treatment of the children, and I think it would be a great discussion starter in a classroom where students might be 'stuck' in a story. Do good children and bad children exist? What motivates us to do the right thing? Do we always have to do what others tell us is right, or should we be guided by our own values? 
The Goody is a terrifically fun read with lessons for kids and adults alike. I highly recommend this book to anyone who's brave enough to want kids to be their authentic, imperfect selves.  
 
Reviewed by Liz Patterson