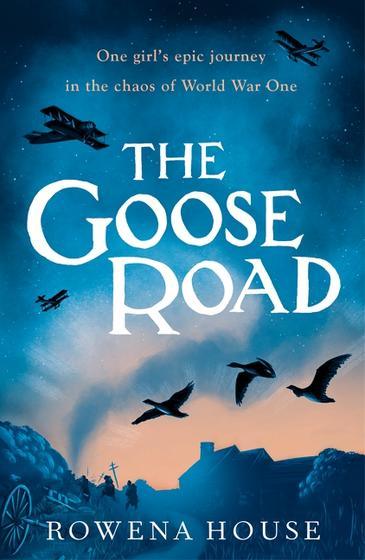 Rowena House, The Goose Road, Walker Australia,  384pp.,  $16.99 (pbk),  ISBN: 9781406371673
It's 1916 and 14-year-old Angélique Lacriox has just learnt of her father's death on the French battlefields. While Angélique does not mourn the death of her cruel and abusive father, she lives in fear of receiving the same news about her beloved brother, Pascal. Without them, the farm must be kept going by Angélique and her maman, a task which grows harder the more her mother withdraws into her own grief.
Angélique battles to keep the farm going but a second visit from the Requisition soldiers leaves them with only the Toulouse geese. The loss of all the other livestock coupled with the grim reality of her father's gambling debts, means Angélique must hatch a desperate plan to save the family farm.
With the aid of her Uncle Gustav, she will make a perilous journey through war-torn France, to sell Pascal's geese to the famed Marshall Foch. To make this sale, she must succeed on a journey that will forever leave her changed.
The Goose Road is a coming of age story that will transport you into the cold mud alongside Angélique. The haunting imprint that the hand of war leaves upon all it touches is crafted in a way that is accessible to younger readers of YA fiction. This captivating historical fiction is a beautiful balance of light-hearted joy and gut-wrenching despair. There is a delightful depth of characters hidden within simple storytelling.
Angélique's journey is brutal, cold and heartbreaking. It often feels we are right there in the mud with her. Angélique's naivety and fierce determination propel her quest, and with her we have a believable and realistic heroine.
The Goose Road is a gripping journey of one girl's determination to save her family.
Highly recommended for ages 12 and up.
Reviewed by Fiona Miller-Stevens