Jackie French, Night Ride into Danger, HarperCollins Australia, May 2021, 256 pp., RRP $16.99 (pbk), ISBN 9781460758939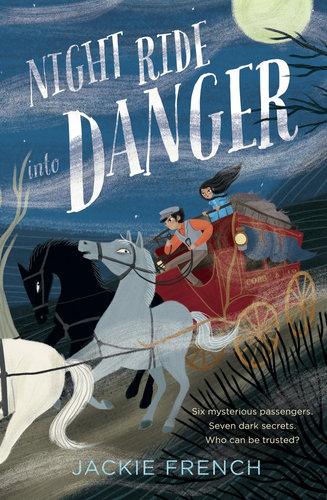 Night Ride into Danger is a historical fiction adventure aimed at younger/intermediate readers aged ten and over. Set in Australia in 1874, the story is based on the historical Cobb and Co postal and passenger horse-drawn stagecoaches in Victoria, New South Wales, and Queensland during Australia's gold rush period.
The story centres around a young boy, Jem who helps his father, a driver for Cobb and Co to deliver their passengers and cargo through a dangerous and thrilling night journey. Things do not go to plan in the treacherous terrain. Jem must confront some unanticipated dangers from the mysterious passengers they are transporting.
Night Ride into Danger will appeal to young readers who like adventure stories and are curious about the days when horses and coaches were a common form of transport. Jackie French writes some beautiful descriptions of the Australian landscape, making the journey wonderful to imagine.
There are extensive Author's notes included about Cobb and Co, the cultural context of the characters and relevant historical figures. The Henry Lawson poems that partly inspired Jackie French to write this story are also included.
The story also delves into issues about multicultural relationships and the historical racial stereotypes of Indigenous Australians and migrants to Australia in the 1800s. From the outset, now outdated and offensive racial terms are encountered in the interactions between characters. The Author's Notes explain why this terminology is used.
Night Ride into Danger would be ideal as a class novel or home-schooling study novel. There are opportunities for young readers to examine the deeper issues in this story of a young boy in colonial Australia with their own understanding of contemporary social issues in Australia.
Reviewed by Angela Brown