Victoria Mackinlay (text) and Sofya Karmazina (illustrator), Ribbit Rabbit Robot, Scholastic Australia, April 2020, 32 pp., RRP $19.99 (hbk), ISBN 9781743834060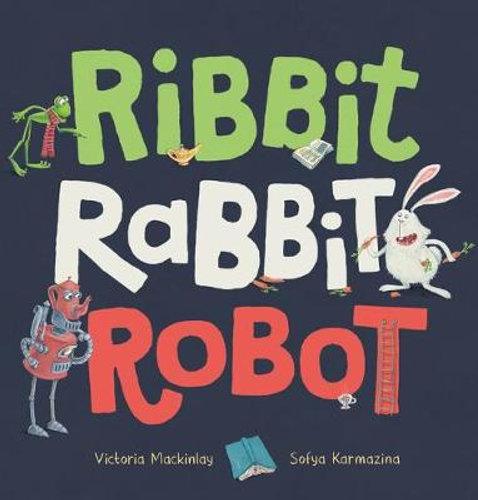 Ribbit Rabbit Robot opens with three friends, a frog, a rabbit and a robot, browsing in an antiques store. Thanks to the frog's clumsiness the trio discover an ancient lamp. Upon rubbing the lamp a genie is revealed along with a list of conditions. Madness ensues with each of the friends seeking to own the lamp and control the genie. I won't give away the ending suffice to say that everything works out in a very sweet and somewhat unexpected manner with the requisite lesson about the futility of greed.
The exciting things about this title are the use of minimal text, the illustrations and the use of humour. Minimal text is used to convey a range of emotions and reactions throughout the book. The words 'ribbit', 'rabbit' and 'robot' are used to express curiousity, anger, excitement etc. These three words are supplemented with other simple and phonetically related forms such as 'rub it', 'row it', 'ride it', and 'rocket', making it an excellent read for an early childhood audience and emerging readers. Ribbit Rabbit Robot has been Shortlisted for the CBCA New Illustrator Award. It is not hard to see why. The illustrations are beautifully detailed and expressive, supporting and extending the text. Given the level of detail, the illustrations are also well balanced, alternating between full page and smaller vignettes, thus preventing the reader from becoming overwhelmed. The humour created in the intersection of the text and illustrations is gently conveyed throughout the story, in particular the ending which cautions the reader to be careful what you wish for and always read the fine print.
Ribbit Rabbit Robot would make a fine addition to any school or home library. It is the kind of book that is bound to become a firm favourite of young readers and drive parents and carers slightly mad as they struggle with the tongue twister of ribbit, rabbit and robot.
Reviewed by Anne Varnes