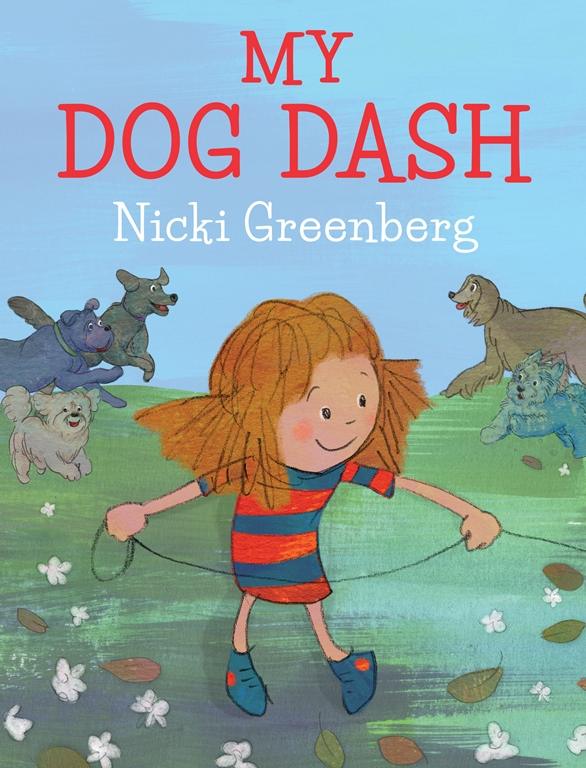 Nicki Greenberg, My Dog Dash,  Allen & Unwin,  May 2016, 32pp.,  $24.99 (hbk),  ISBN: 9781760110673
Dash isn't a very well behaved pet— he doesn't behave at puppy school, he chews books and wrecks the garden, he's not very good at playing fetch and he takes absolutely ages to go for a walk. He dribbles, leaves puddles and makes a mess which makes mum mad. What a naughty puppy! Dash's owner, and we the reader, believe Dash is a dog, but after exploring their world, we discover that Dash isn't a dog at all but a misunderstood snail!
Nicki Greenberg's extensive background in cartoon illustration is evident in her whimsical and humorous depictions of the family and the animals—all the different dogs are just wonderful. There is an interesting use of collage textures which add background interest to the main characters. This is a great example of a story which utlises imagery to tell its own story alongside the text and helps to maintain the little girl's make-believe world until the last hilarious visual twist.
My Dog Dash celebrates the power of imagination and children's capacity to believe anything is possible. The story's gentle humour and surprise ending will appeal to preschoolers and could encourage discussion about make-believe versus reality and why the little girl believes her pet is a dog.
One of Nicki Greenberg's previous warm and funny picture books Teddy Took the Train was in the repeat-read stack in our home and I'm sure this story will similarly be embraced by old and young alike.
Reviewed by Amanda Tarlau