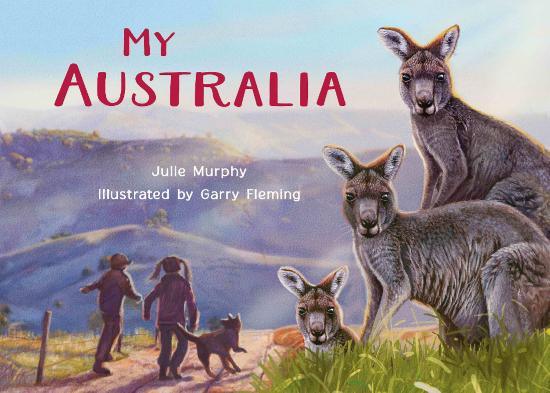 Julie Murphy (text),  Garry Fleming (illus.),  My Australia, National Library of Australia Publishing, 1 March 2018,  32pp., $24.99 (hbk),  ISBN: 9780642279163
There have been many picture books published that try to capture the unique beauty and spirit of Australia, but My Australia stands out with its combination of poetry and information, illustrations and photography.
Capturing the gamut of Australian landscapes and regions, from the red desert to the azure coast, and including cottage gardens, cityscapes and pasturelands, this poetic journey across our land reflects on our long history. Acknowledging our indigenous heritage, the harsh life of the settlers and modern Australia, Julie Murphy tells the story of our homeland in a style reminiscent of Dorothea MacKellar's My Country. The text is beautifully illustrated by Garry Fleming, and detailed paintings leap from every page.
The book ends with several pages of factual information and photography, making it a very useful title for any primary school library. Accompanied by Teachers Notes which relate to the Australian Curriculum in the early years, this book will be enjoyed by those aged 4-8, and useful for teachers introducing poetry or working with themes of home, environment or Australian history.
Reviewed by Kay Oddone